Hosmer's jack lifts Royals on wild night in KC
Hosmer's jack lifts Royals on wild night in KC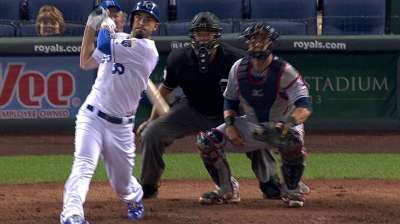 KANSAS CITY -- Ka-boom! That wasn't the Fourth of July fireworks going off at Kauffman Stadium. Not in the seventh inning, at least.
Nope, that was Eric Hosmer's home run soaring over the center-field wall to break a tie and give the Royals a 6-5 victory over the Cleveland Indians on a bizarre Wednesday night. The loss nudged the Indians out of first place in the American League Central, a half-game behind Detroit.
The evening included a long rain delay, an injury to Royals star Alex Gordon and a pause when the stadium lights went out. The game went until 1:06 a.m. CT, so the postgame fireworks actually lit up the sky on the Fourth.
Additional good news for the Royals was that Gordon was walking around in the clubhouse after the game and seemed to be all right. He did sustain symptoms of a mild concussion and a right hip bruise when he fell against the fence chasing a fly ball in the sixth inning.
"Scary, man," Hosmer said. "He's best player on our team. We can't have him go down. He's the heart and soul of this team and the word around here is he's OK, so that's pretty much two wins for us right there."
Hosmer belted his solo shot off reliever Cody Allen in the seventh just after the Indians gained a 5-5 tie. He hit a 1-0 fastball.
"He smoked that ball. It was cool, heavy air, too, so he hit it a ton," Royals manager Ned Yost said.
Rain delayed the first pitch for two hours, 37 minutes, but most of a holiday crowd of 28,534 patiently waited for the game and, of course, the postgame Independence Day fireworks display. Royals starter Jeremy Guthrie threw a strike at precisely 9:47 p.m. The rain cooled the temperature to 64 degrees.
Guthrie took a 1-0 lead into the sixth inning, but Michael Bourn and Asdrubal Cabrera each singled. Then, Jason Kipnis hit a long drive that sent Gordon twisting and turning until he fell backwards against the bullpen fence, banging his head. He lay there for several minutes before getting unsteadily to his feet with help and then walking slowly to the dugout.
The ball rolled away and Kipnis circled the bases for a three-run, inside-the-park homer.
"As exciting as it is to see Kip running the bases, it's hard not to worry," Indians manager Terry Francona said. "I mean, that kid [Gordon] plays so hard. He's such a good player. You see him laying there, you could even tell our guys [were worried]. Even when Kip crossed the plate, there wasn't a whole lot of jumping around, just because the guy is laying there."
Guthrie retired the next three batters and the Royals came to bat in the bottom half of the inning full of fire. They came up with four runs on five hits and an Indians error, running through three pitchers as they took a 5-3 lead.
Singles by Alcides Escobar and Hosmer knocked Indians starter Scott Kazmir out of the game. Reliever Bryan Shaw struck out Billy Butler but Salvador Perez, Lorenzo Cain and Miguel Tejada each rapped RBI singles.
While Johnny Giavotella was at the plate, Shaw tried a pickoff throw which first baseman Nick Swisher missed, allowing Cain to score with the fourth run of the inning. Giavotella flied out and Rich Hill relieved Shaw and got the third out.
Meantime, the Royals players were getting encouraging reports on Gordon.
"They knew after they got through the inning there that he was fine," Yost said. "Guys ran up and checked on him and they knew it wasn't anything extremely serious."
Then, in the top of the seventh, as the clock struck midnight, sections of the stadium lights blinked off. A computer glitch was blamed. But Guthrie, who had struck out Mark Reynolds and had a 2-2 count on Ryan Raburn, had to stand around for 12 minutes while the lights came slowly back on.
When play resumed, Guthrie walked Raburn and Yan Gomes and was relieved. Did that lights-out interruption throw Guthrie off his game?
"Yeah, absolutely," Yost said. "You're rolling in the middle of an inning. You've got a 2-2 count on a guy and you get a 12- or 13-minute delay because the lights went out. Yeah, it definitely affected him."
Reliever Will Smith gave up an RBI single to Bourn and a sacrifice fly to Cabrera and the Indians were even at 5 -- until Hosmer teed off in the bottom half.
The Royals had a chance to pad their lead in the eighth when they loaded the bases with none out, but they failed to score. When David Lough flied out to medium left field, third-base coach Eddie Rodriguez wanted to Cain to tag up and try to score. But Cain slipped and had to hold up.
"Eddie was sending him, but Cain kind of got goofed and got turned around," Yost said. "He left a little early, slipped and it was another one of those little oddities of the night."
Oh, it was an odd night all right. A game that didn't start until nearly 10 o'clock and ended after 1 o'clock in the morning.
"At least our fans got to see fireworks on the Fourth of July," Yost said with the smile of a winner.
Dick Kaegel is a reporter for MLB.com. This story was not subject to the approval of Major League Baseball or its clubs.