Royals' offense focus as Trade Deadline nears
Royals' offense focus as Trade Deadline nears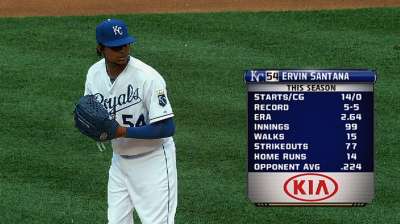 KANSAS CITY -- It's non-waiver Trade Deadline month and Royals general manager Dayton Moore is, as always, on point.
"You're always looking to acquire talent that impacts your team for today and tomorrow," he said.
The area of most concern as the Royals' season hit the midway point with the 81st game on Wednesday night has been the inconsistent offense. For the most part, the upgraded pitching rotation has been very strong, the bullpen solid and the defense superb.
"We believe in our offense," Moore said. "We believe it's going to continue to trend upward and we really like the aggressiveness and the way we've swung the bats the last couple weeks of the season. We've got to believe in who we are and the answer for our team getting better lies within -- that the young players that we have, we've got to expect them to get better."
First baseman Eric Hosmer and third baseman Mike Moustakas, the young cornerstones of the attack, are on an upward track. Right fielder David Lough has infused new life and now Johnny Giavotella is getting a shot at uplifting the production at second base.
"Johnny's been one of our better hitters in the Minor Leagues and he's earned the opportunity, and we're pleased to have him out there," Moore said. "He's going to bring energy and toughness to our team and I like the fact that he's getting the chance."
As the Trade Deadline approaches on July 31 at 3 p.m. CT, the names of players coming up on free agency always surface in speculation and that group will include pitcher Ervin Santana, who's been very good in his first year with Kansas City.
"I mean, we need him, too. We're trying to win games," Moore said. "We expect to win games, we believe in our team. We need to make sure we're running out a quality starting pitcher every single night and Erv's done as well as anybody we've run out there."
The Royals are entering a crucial time in their schedule. Over the next four weeks, they're playing strong clubs in Cleveland, Oakland, the Yankees, Cleveland again and, after the All-Star break, Detroit and Baltimore. So when the end of the month approaches, the Royals will have a much better feel for how their chances shape up and that could affect any Deadline deals. For right now, Moore sounds like a man interested in only one thing.
"We're going to do what we've done all year and that's just keep battling every single night to win games," he said.
Dick Kaegel is a reporter for MLB.com. Kathleen Gier is an associate reporter for MLB.com. This story was not subject to the approval of Major League Baseball or its clubs.