Bats overcome Greinke's rocky start to sink Rox
Bats overcome Greinke's rocky start to sink Rox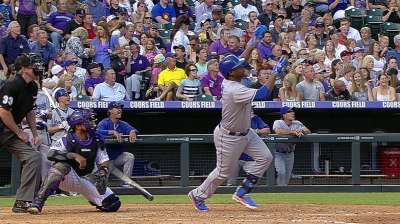 DENVER -- The Dodgers continued their improbable sprint up the standings Wednesday night, overcoming an injury to Yasiel Puig and a seven-walk start from Zack Greinke for a 10-8 win while tying the Rockies for second place in the NL West.
Puig escaped with a bruised left hip and thigh after crashing into the right-field wall in the fifth, while the Dodgers escaped with their 10th win in their last 11 games. The game featured home runs from Juan Uribe, Adrian Gonzalez, Hanley Ramirez and Matt Kemp, and three hits from Mark Ellis.
Ramirez had four hits while extending his hitting streak to 14 games, during which he's batting .500. Uribe's two-run homer off losing pitcher Tyler Chatwood helped erase a three-run deficit in a four-run fourth inning.
Kemp's homer was his first in six weeks and it came after taking advice from Puig, who was named NL Player and Rookie of the Month before the game.
"All I can say is, steak and eggs. Puig told me to eat that every day and I'll start hitting home runs," said Kemp, who has three this season. "So I'm going to do what he tells me to do."
Kemp said between Puig and Ramirez, no wonder the Dodgers have unleashed one of the most remarkable turnarounds in recent memory, climbing from last place while erasing seven games in the standings since June 22.
"It's crazy. We've got two dudes hitting .400," he said of Puig (.440) and Ramirez (.412). "That ball Hanley hit, that was amazing."
The Dodgers had 10 extra-base hits and needed just about every one of them, as Greinke struggled to make it through five innings with 107 pitches. He was charged with five runs on six hits, but a four-run fourth inning from his offense made him the winner, lifting his record to 6-2.
Although he had not walked more than three in any of his 11 other starts this year, three of the seven led off innings and three of the walks scored. The seven walks tied a career high. He also allowed a solo homer to Carlos Gonzalez.
"I feel I did as good as I could do today and that's not very good, but that's how bad it was," said Greinke. "It was a tough game and we pulled it out.
"When we would get behind early in the year, you didn't know if the game might be over, even though it's only the third inning. Now, three runs in the second inning, I don't know if everyone feels this way, but I'm very confident if I kept them there, we'd come back and win."
Manager Don Mattingly said a healthy lineup has given his team confidence, and with confidence, it's been able to play to its potential.
"We not only have our weapons, but you're starting to see the confidence that we can score some runs," he said. "Having guys in there causes confidence."
Kenley Jansen picked up a four-out save, joining lefties J.P. Howell and Paco Rodriguez in combining for 3 1/3 scoreless innings of relief.
Before being injured, Puig ignited the Dodgers offense. He turned a first-inning single into a hustle double. Then, when Gonzalez's bouncer tipped off first baseman Todd Helton's glove, Puig headed for third base, but was thinking of home.
Helton retrieved the ball and threw to pitcher Tyler Chatwood covering first, while Puig rounded third and headed home. Chatwood threw to the plate, but catcher Wilin Rosario tried to tag Puig without catching the throw and Puig scored standing up with Rosario being charged with an error.
Ramirez scored three times, falling a triple shy of a cycle. His home run to center field was estimated by the Rockies at 442 feet.
"We might not see someone hit a home run off that pitch all year," Greinke said of the homer. "Every time he hits the ball it's over a hundred miles an hour. He just crushed it."
And he wasn't alone, as the Dodgers offense scored in double figures for the first time this year.
"We know we can come back to win games," said Ramirez. "That's the difference between now and before. We don't give up."
Ramirez, who had to battle through shoulder labrum surgery similar to Kemp's in 2011, was the first to welcome Kemp back to the dugout after his home run barely cleared the fence.
"Confidence for him is good," said Ramirez. "He can go back to the hotel, relax and come back to get one more. He has to try to get some confidence. I know what he's going through. It's not easy. You need your family, your teammates."
Ken Gurnick is a reporter for MLB.com. This story was not subject to the approval of Major League Baseball or its clubs.