Lohse's gem, timely hitting lead Crew to win
Lohse's gem, timely hitting lead Crew to win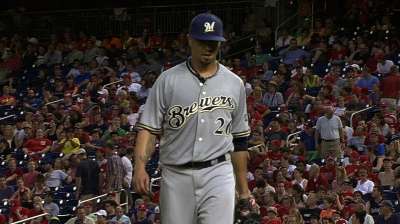 WASHINGTON -- Kyle Lohse's mound mastery for much of this season has been overshadowed by the Brewers' struggles, and under-appreciated because of the high price the team paid for his services -- both in dollars and draft picks.
But as he worked against the Washington Nationals on Wednesday night, breezing though eight innings and letting his outfielders play their way onto the highlight reel, those other issues faded away. Lohse filled the zone with strikes, leading the Brewers to a 4-1 win at Nationals Park.
Aside from one ugly sequence on the basepaths in the eighth inning, it was a near flawless night for the Brewers, who can take the series by winning Thursday's 10:05 a.m. CT Independence Day game.
"For the most part, I felt really in control tonight," Lohse said.
It showed. Lohse came within three outs of the Brewers' first complete game since April 2011, but with his pitch count at 103 and his spot in the order due up second in the ninth inning, Brewers manager Ron Roenicke opted for a pinch-hitter.
Francisco Rodriguez logged the save in a tense ninth inning, but more on that later, because Wednesday belonged to Lohse. He has not lost since May 30, and he settled for his third straight winning decision after allowing one run on four hits with one walk and seven strikeouts.
The right-hander didn't allow a run until second baseman Anthony Rendon hit Lohse's 86th pitch, a curveball, into the visitors' bullpen in left field. By then, the Brewers were working comfortably with a lead.
Norichika Aoki gave Lohse the advantage by delivering a two-run single off Nationals starter Ross Detwiler in the fifth. Logan Schafer's two-out, two-run triple made Bryce Harper pay for an error earlier in the sixth inning, and the Brewers won their second straight game after a six-game losing streak.
"Every pitcher should be like [Lohse]," said Brewers third baseman Aramis Ramirez. "He works fast, throws strikes. Some guys don't realize that you give the hitter less time to think when you do that. If you look at other guys like that, they're all successful."
It was Lohse's sixth consecutive quality start (if you are kind enough to throw away the outing in Pittsburgh on Sunday that was cut short by rain) and his 10th quality start in his debut season in Milwaukee -- one that might have be even better had he not pitched through most of May with a cranky right elbow. Even with some compromised outings mixed in, Lohse is 4-6 with a 3.43 ERA this season, the first of a three-year contract.
He threw 71 of his 103 pitches for strikes and was buoyed by terrific defense. Center fielder Carlos Gomez twice robbed Harper of a hit, leaping at the wall to take away extra bases in the first inning and ranging toward left to snag a line drive in the fourth. After the second play, Harper doffed his batting helmet toward Gomez in a show of appreciation.
But Lohse was not given a chance to snap the Brewers' complete game drought. When Yuniesky Betancourt pinch-hit for Lohse in the ninth, it extended Milwaukee's streak of regular-season starts without a CG to 402. Every other team in baseball has logged at least four complete games in that span.
Lohse himself has eight complete games in 348 Major League starts.
"I want to finish it, [but] it's tough to do," he said. "You just want to go out and have a quality start. I'm not talking about the six innings, three runs, I'm talking about go out and do your job, and when the manager comes and gets you, he comes and gets you. That's my approach."
Roenicke decided that with Wednesday's heat and humidity, Lohse was finished after eight innings. Lohse concurred, saying it was the right call after his "false start" at Pittsburgh on Sunday.
Some "what ifs" were asked nonetheless. What if Lohse's spot in the batting order had not come up in the ninth? What if the Brewers had scored an insurance run in the eighth inning, as they would have if not for baserunning errors by Ramirez and Rickie Weeks on the same play?
Ramirez was at third base and Weeks at first with one out when Sean Halton hit a fly ball to deep center field for a long out. Weeks thought there were two outs and charged around second before catching the eye of Ramirez, who urged for a retreat as he was tagging up. That was the first mistake.
The second belonged to Ramirez, who, as Weeks raced back toward first, trotted home slowly. Had he touched the plate before the Nationals doubled-off Weeks at first, the run would have counted.
"I had no clue," Ramirez said. "Ronnie told me afterwards. He told me that if I would have scored, the run counts. I'm like, 'OK, I didn't know that.' I thought that a double play, automatically the run didn't count. I had no idea. I don't think anybody knew."
Said Roenicke: "When you're a player out there, you can't think about those things. Just play hard, and then everybody can figure out what's going on. [Ramirez] was trying to get Rick's attention to stop, and not knowing the rules, you can't think that quick and say, 'I've got to score before they double him up.'"
So the Brewers' lead remained three runs into the ninth, when Rodriguez surrendered a single and a two-out walk that brought Rendon to the plate representing the tying run. When Rendon lifted a drive to deep center field, Ramirez immediately thought of the run he did not score an inning earlier.
"I got scared," Ramirez said with a laugh. "I thought he hit it pretty good, but this is not an easy park to hit homers in."
The ball settled into Gomez's glove at the edge of the warning track, and Lohse's victory was saved.
Adam McCalvy is a reporter for MLB.com. Read his blog, Brew Beat, and follow him on Twitter at @AdamMcCalvy. This story was not subject to the approval of Major League Baseball or its clubs.