Lead gets away from Walters, Twins
Lead gets away from Walters, Twins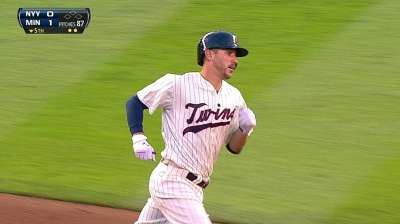 MINNEAPOLIS -- Right-hander P.J. Walters needed to make a statement. With a combined 3 2/3 innings of work over his two previous starts, he needed to put up an outing that would not only provide the Twins with a chance to win, it would give him some job security as well.
Through five innings he did just that before struggling in the sixth, leading to the Twins' fourth straight loss in a 3-2 decision on Wednesday at Target Field.
Walters cruised into the sixth in search of a deep, quality start with a two-run lead. But everything unraveled. He walked the leadoff batter, then allowed three consecutive hits. He exited after facing the four batters and recording no outs. His once-scoreless outing ended with three runs, three walks and three strikeouts.
"All but my last two outings, we've had a chance to win," Walters said. "That's my job, to give us a chance to win some ballgames. It's been a while since I've won one, so I need to get that going pretty quick."
The Twins struck first. In the third, Joe Mauer knocked a double to left-center, scoring Brian Dozier, who'd led off with a walk. With a one-run lead, Minnesota quickly had a golden opportunity to pile on some more. Ryan Doumit reached a batter later on a throwing error, as Luis Cruz airmailed a throw to Lyle Overbay. The Twins had two runners on with the meat of the order coming up, but Yankees starter CC Sabathia retired the next three batters to end the threat.
"He just made his pitches," Trevor Plouffe said. "I missed the one pitch he left me. It was a battle from there, and he ended up getting out of it. With a guy like CC, you have to score some runs, especially against the Yankees."
Minnesota added to its lead in the fifth, when Plouffe hopped on the first pitch he saw for a solo shot to straightaway center field. It was his eighth home run of the year, and it gave the Twins a two-run lead.
"The pitch I hit was a fastball," Plouffe said. "It was a good swing but we had other chances tonight. Me in particular with the at-bat before that one. So I'm not really focused on the home run. We want to come back and win tomorrow."
But Walters couldn't hold the lead for long. After a walk to Brett Gardner and a double by Ichiro Suzuki, Robinson Cano roped a two-run double off the right-field wall to tie the score at 2.
"I just hung a breaking ball," Walters said. "It was a pitch I should have bounced. Two-two would have been a count I could still do anything. If I walk him, then, 'Oh well, obviously I hung it,' and it's not what I was trying to do there."
Because first base was open, many questioned why Gardenhire even pitched to Cano, who had already tapped the Twins for three home runs in the first two games of the series. But Gardenhire said that with no outs, he didn't want to put the tying run on first.
Walters gave up one more hit, to Travis Hafner, before giving way to left-hander Caleb Thielbar. Thielbar retired the next three Yankees, but Overbay's sac fly allowed Cano to score the go-ahead run.
With only two runs against him, Sabathia put up his 15th consecutive start against the Twins in which he gave up three runs or fewer. Those two runs came off seven hits, including Plouffe's home run, and three walks. He struck out nine before exiting after seven innings.
"He had to really grind this one out," Yankees manager Joe Girardi said. "You look up, and he was at 80 pitches after four innings -- maybe even more than that. I didn't think his slider was as good as it's been, but that's what CC does -- he finds a way to get it done. CC's a competitor, and he's going to find a way."
While Sabathia earned his 200th career win with the victory, the Twins moved to a 36-45 record 81 games into their season -- just one game better than the previous two seasons at the midway point.
Kelly Erickson is an associate reporter for MLB.com. This story was not subject to the approval of Major League Baseball or its clubs.