Lannan falters in fifth as Phils fall to Bucs
Lannan falters in fifth as Phils fall to Bucs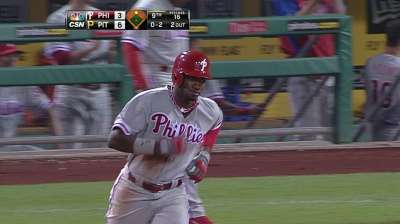 PITTSBURGH -- Phillies lefty John Lannan was in and out of trouble until he was roughed up in the fifth inning, in which Pirates third baseman Pedro Alvarez's three-run homer helped power Pittsburgh to a 6-5 win over the Phillies in front of a crowd of 33,197 on Wednesday at PNC Park.
"Lannan was in trouble most of the game," Phillies manager Charlie Manuel said. "He went five innings, gave up 11 hits and left nine guys on base. He wasn't as sharp as he was the other night in Los Angeles.
"It wasn't one of his better games, but at the same time, he was trying to battle and keep us in the game. He was in trouble most of the game."
Lannan allowed four runs on 11 hits, absorbing the loss to fall to 1-3.
"I was in trouble and battled the whole time," Lannan said. "I just didn't make a pitch to Alvarez. It's a different ballgame if I make a pitch there, and that's what it comes down to."
Pirates lefty Jeff Locke tossed 5 2/3 innings for the Bucs and surrendered three runs (one unearned) on seven hits. He got the win, upping his record to 8-1 while the National League Central-leading Pirates have now won 10 of their last 11 games.
"I felt pretty good," Locke explained. "I felt good in the bullpen. It was something I was really happy about warming up after that game I didn't get into [on Sunday]. Everything kind of came together like it usually does, just as the game progresses. Just use the defense to my advantage. They made some great plays and bailed me out."
The Phillies threatened to take the lead in the top of the third inning. With one out, Lannan drew a walk. With two outs, Chase Utley doubled to the wall in right field, but Lannan was gunned down at home plate when Jose Tabata hit cutoff man Neil Walker, who made a strong relay throw to catcher Russell Martin, who blocked home plate and tagged out Lannan.
The Phillies broke through against Locke in the top of the fourth inning. Domonic Brown singled. Phillies right fielder Delmon Young reached a milestone with his second base hit of the game, putting runners at first and second with one out. It was career hit No. 1,000 for Young. With two outs, Ben Revere stroked an RBI single to left, giving the Phillies a 1-0 lead.
The run snapped Locke's scoreless-innings streak at PNC Park at 23 1/3 innings.
The Pirates got to Lannan in the bottom of the fifth inning. With one out, Andrew McCutchen, Gaby Sanchez and Martin laced three straight singles. Martin's hit plated McCutchen. Alvarez smacked his home run to right-center field, giving the Pirates a 4-1 lead. It was home run No. 21 for Alvarez.
Alvarez has been improving against left-handed pitchers.
"I feel very confident in myself to keep progressing and keep learning," Alvarez said. "Everybody's got a lot to work on. And to say that someone has it all worked out is false. We can all improve, and there's a lot of areas that I want to improve that I'm going to continue to work on every day."
The Phillies sliced the lead to 4-3 in the sixth inning. Young singled, his third hit of the game. With two outs, Carlos Ruiz singled, putting runners at first and second and chasing Locke from the game. Pirates reliever Justin Wilson gave up an RBI single to pinch-hitter Kevin Frandsen, and shortstop Jordy Mercer then booted a routine ground ball, allowing Ruiz to score.
The Pirates added to their lead in the bottom of the sixth. With one out, McCutchen tripled off Phils reliever Phillippe Aumont. Sanchez was hit with a pitch and Martin stroked an RBI double to left. Left-hander Jake Diekman replaced Aumont and uncorked a wild pitch, allowing Sanchez to score to up the Pirates' lead to 6-3.
"Some of our guys in our bullpen got big arms," Manuel opined. "They got talent, but they are inconsistent. They might pitch good tomorrow, and the following day, they might not do so good. They are young and they haven't been there, and that's a lot of heat to put on them and they feel it. They've got to work through it and get experience."
Brown brought the Phillies to within a run with a two-out, two-run homer in the ninth -- Brown's 22nd of the season -- but Jason Grilli recovered to retire Young to end the game.
"I was just looking for a ball up to drive and that's it," Brown said. "I didn't know when I saw the pitch, I just knew I took a good swing and I hit it good."
It was another frustrating loss for the Phillies, who just can't seem to gain any traction.
"That's kind of how we play," Manuel lamented. "That's what our team so far has been, and that's why we can't put a winning streak together, and that's why we have a hard time staying at .500. That's how we play."
George Von Benko is a contributor to MLB.com. This story was not subject to the approval of Major League Baseball or its clubs.