La Russa on hand for Pujols-Cardinals reunion
La Russa on hand for Pujols-Cardinals reunion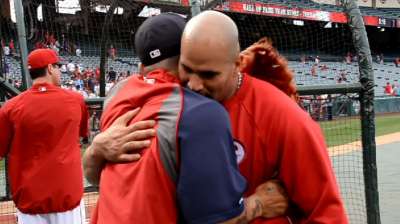 ANAHEIM -- As the Angels and Cardinals have played this week, and Albert Pujols has reunited with his former team, Tony La Russa has been in an awkward position -- seated in a vacant radio booth behind home plate, watching it all unfold.
"I have the longest history with Albert, but I've had wonderful memories with his Cardinal teammates, so it's real mixed emotions," La Russa said in a phone conversation on Wednesday morning, hours after Pujols went 0-for-3 with a walk in his first game against the Cardinals. "You want to see everybody do well. It was really interesting. He came up that first at-bat, [Lance] Lynn throws hard, and he just missed his first two fastballs. And then they got 3-2 and [Yadier Molina] kind of tricked him with a breaking ball. That shows you the competitor that Yadi is."
La Russa, who was also on hand for Wednesday's game but won't be at the ballpark for Thursday's series finale, essentially left St. Louis with Pujols. He announced his retirement from managing shortly after the 2011 World Series, then watched Pujols sign a 10-year, $240 million contract with the Angels a little more than a month later.
La Russa, currently working with Major League Baseball as a special advisor, doesn't fault the Cardinals or Pujols for the split.
Just baseball economics.
"The way that the rules are, free agency and so forth, and the money, it'll be rare that a great, great player, a franchise player, like [Cal] Ripken or [Derek] Jeter or Pujols, can stay with his team the entire career," La Russa said. "The only franchise players you'll see be able to stay with their club their entire career are going to be with the clubs that have such deep pockets that they can afford to pay that premium price from his money-making years all the way through to the end of his career.
"It was unfortunate, because Albert was in line to be Stan Musial Jr."
Pujols can in some ways be unrecognizable to La Russa these days. Heading into Tuesday, he was batting .247, with a .747 OPS that didn't rank among the top 80 in baseball and a perpetual hobble, from plantar fasciitis in his left foot and swelling in his right knee.
La Russa saw Pujols battle plantar fasciitis early in his career, and saw how much it hindered Mark McGwire in St. Louis.
Pujols' pain tolerance, La Russa said, "is amazing."
"I just think that if they can get him healthy, then they'll see the .300 hitter with 100 RBIs and 30 home runs," La Russa said. "Not only that, because he works -- he has no bad habits, doesn't drink alcohol, watches what he eats, and every year, he's smarter than he was before. So experience is a huge weapon for him. But he's playing hurt, and still he's representing."
Alden Gonzalez is a reporter for MLB.com. Read his blog, Gonzo and "The Show", and follow him on Twitter @Alden_Gonzalez. This story was not subject to the approval of Major League Baseball or its clubs.