Five-run inning lifts Angels to seventh straight win
Five-run inning lifts Angels to seventh straight win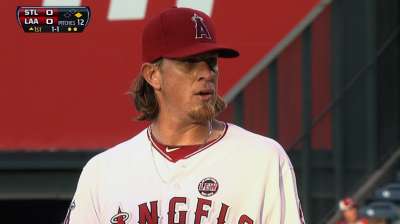 ANAHEIM -- Mark Trumbo lunged to his right, snared a bullet one-hopper off the bat of David Freese, fired to Erick Aybar and watched his shortstop throw to a streaking Scott Downs, who got to first base just in time to complete the inning-ending double play that got the Angels out of a bases-loaded jam, preserved a four-run lead heading into the ninth and might've saved another win.
"At the time, it was pretty crucial," Trumbo said after Tuesday's 5-1 victory over the dangerous Cardinals. "I think the momentum definitely would've shifted had it gone through."
Has the momentum finally shifted in the Angels' favor?
It's a question that has been asked all season, and it's especially relevant now. The Angels have won seven in a row, their second-longest winning streak of 2013. They're three games below .500, giving them their best winning percentage since being 1-1 on April 3. And they're 8 1/2 games out of first place, which represents their smallest deficit since May 30.
They're still far -- but getting closer.
"We always think that we can get back into it," said the winning pitcher, Jered Weaver. "The Angels are a winning club. Obviously it hasn't gone our way the last couple of years as far as reaching our goals, but we're never going to give up. There's too much talent in this room to sit back and not win ballgames. Everything's starting to click now."
There was another stretch where everything clicked for the Angels. It was May 18-26, when they won eight games in a row just before losing 11 of their next 15 to go in desperation mode all over again.
One major difference: It seems the Angels are starting to do the little things now.
They're playing better defense, with no greater example being Trumbo's momentum-shifting play.
They're pitching. Weaver gave up one run in seven innings for the second straight time -- against two very potent offenses in the Tigers and Cardinals -- and the Angels have allowed two or fewer runs for a fifth straight game, tying the Blue Jays for the longest streak in the American League this season.
And they're finally getting the timely hitting that had eluded them for most of the year. All of the Angels' runs came in the second inning against right-hander Lance Lynn, when they bunched together six singles and got RBIs from Trumbo, Alberto Callaspo, Erick Aybar, J.B. Shuck and Mike Trout.
"They had a good approach and they were hitting them through the holes," said Lynn, who's had an inning in which he's given up at least four runs in three of his past four starts. "You tip your cap to them."
The Angels are now batting .370 with runners in scoring position over their last eight games. And if there's one negative that you can take away from Tuesday's game, it was simply that Albert Pujols went hitless in his first game against his former team, striking out in his first two plate appearances, walking in his third and hitting a broken-bat groundout to the left side in his fourth.
"It was a little weird, but I was fine, guys," Pujols said. "I swear. I'm being honest. I mean, it would have been a little different if it was in St. Louis. They pitched me well today, but I'm just glad we came out with a win.'"
Weaver scattered six hits, didn't walk a batter, struck out five and was in the upper-80s with his fastball for most of the night. Over his past two starts, his ERA has dropped from 4.65 to 3.79. And the most telling sign is that he's had his best stuff late in the game in both of them.
Against the Tigers at Comerica Park on Thursday, he retired his last 11 hitters in order, punctuating his outing with back-to-back strikeouts. Against the Cardinals (49-33) at Angel Stadium, he retired 10 of his last 11. He recorded his five strikeouts in the fifth and sixth, then breezed through a 1-2-3 seventh with only eight pitches.
"It's big," Weaver said after his seventh start since missing more than seven weeks with a broken left elbow. "Obviously coming back, it was kind of like Spring Training for me all over again as far as trying to build a pitch count and get some arm strength back. I think that the ball is coming out a lot better than it has been. I think that's just a sign of some arm strength coming back and being able to get over that hump finally of a hundred pitches. I'm starting to feel good, it feels strong again, and hopefully I can maintain it through the rest of the season."
Alden Gonzalez is a reporter for MLB.com. Read his blog, Gonzo and "The Show", and follow him on Twitter @Alden_Gonzalez. This story was not subject to the approval of Major League Baseball or its clubs.