Cardinals keep Pujols quiet but not other Halos
Cardinals keep Pujols quiet but not other Halos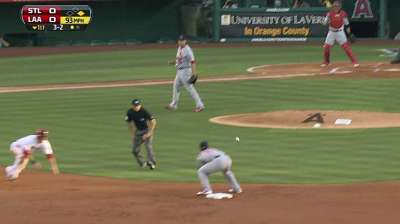 ANAHEIM -- This night had long ago been circled, for it was to be Albert vs. the Cardinals, a superstar and former St. Louis icon against the organization he jilted with his departure.
The story line going in, however, would not be the story line coming out, as Albert Pujols had a quiet night in his first meeting against the Cardinals. Unfortunately for Lance Lynn, the rest of the Angels lineup was not so hushed.
The Cardinals continued their skid through Interleague Play, this time falling, 5-1, to an Angels team that scored all of its runs in the second inning. For the Cardinals -- who were making their first visit ever to Angel Stadium -- the loss is their seventh in a run of nine straight Interleague games.
Two more games remain for the club in Anaheim before the Cardinals (mercifully?) return to playing National League competition.
"We're just having trouble," manager Mike Matheny said, "getting it going right now."
Tuesday's outcome hinged on the events in the second, an inning in which the Angels poked six singles -- three of which were on ground balls that scooted through the infield, another on a soft blooper over the infield -- in order to race out to a 5-0 lead. The inning opened with four straight hits, the latter two each driving in a run.
After Lynn recorded his first out of the inning, three more Angels reached base. Two singles and a misplayed grounder by second baseman Matt Carpenter accounted for those baserunners.
"We tried anything that we could," catcher Yadier Molina said. "They have some good hitters over there and they found some holes. We were just trying to be aggressive. We misplayed one play up the middle. With a team like that, you can't make mistakes."
"They hit a grounder through here, another there," added shortstop Pete Kozma. "That's what good teams do; they string hits together."
The bleeding didn't stop until Lynn struck out Pujols and Josh Hamilton to strand two. Lynn, who has now lost two straight, used 31 pitches to wade through the inning. He went on to pitch four more, limiting the Angels to only two singles while keeping them scoreless.
The Cardinals' rotation, while in a collective funk, has now seen Lynn susceptible to big innings in three of his past four starts. It is a concerning trend for a pitcher whose ERA has crept up to 3.75 and who endured similar scuffles around this time of the season last year.
But whereas Lynn labored throughout the duration of many of his summer starts in 2012, these recent blips have largely been only one inning in length.
"I'm giving up singles," Lynn said. "They seem to be hurting me. You make your pitches. You can't control the rest. That's what I did tonight, and the ball just didn't bounce my way. If I was giving up doubles in the gap, I'm going to be worried about it. But ground balls and base hits are going to happen. They just happened in a bunch."
In three of his past four starts, Lynn has endured an inning in which he gave up at least four runs. Oddly, however, almost all of the damage has come via a slew of singles.
On June 15, that inning was the first. Nine batters came to the plate, and three of the four hits Lynn allowed in the inning were singles. Two starts later, on June 26, Lynn allowed four fourth-inning runs. That time, Houston batted around in the order while not recording an extra-base hit.
"He has the stuff to stop the bleeding. He just couldn't figure out how to do it," Matheny said. "[There's] no reason, when you look at his stuff, why that should happen on a consistent basis. It's hard to explain. I'm sure he can't explain it either. There weren't a lot of hard-hit balls that ended up adding up to a lot of runs."
Facing Angels ace Jered Weaver, the Cardinals had no answer for climbing out of the early hole. Though the Cardinals had the only extra-base hits of the game, the club went hitless in four chances with runners in scoring position against Weaver. St. Louis' only run off the right-hander came in the fourth, when David Freese followed back-to-back one-out hits with a run-scoring groundout.
The Cardinals' best chance to mount a comeback came upon Weaver's exit. They tried their own singles script in the eighth, starting the inning with three in a row against right-hander Kevin Jepsen. But lefty Scott Downs relieved Jepsen and didn't budge. He struck out Matt Adams before first baseman Mark Trumbo made a diving stop on Freese's sharp, low liner to start an inning-ending double play. It saved at least two runs.
"At the time, it was pretty crucial," Trumbo said of his defensive gem. "Hopefully we would've hung on and won it, but I think the momentum definitely would've shifted had it gone through."
The Cardinals, while still best in the Majors when hitting with runners in scoring position, have just one hit in their last 16 such chances. The bottom of the lineup also has been a black hole of late. The bottom three -- Jon Jay, Daniel Descalso and Kozma -- in a Cardinals' lineup sans Matt Holliday on Tuesday, finished 0-for-11. That comes one game after the bottom third also went 0-for-11.
For all the hoopla surrounding the Pujols reunion, his night as a designated hitter ended up entirely nondescript. Pujols finished 0-for-3 with two strikeouts and a walk.
"It was a little weird," Pujols said at the end of the night. "But I was fine, guys. I swear. I'm being honest. I mean, it would have been a little different if it was in St. Louis. They pitched me well today, but I'm just glad we came out with a win."
Jenifer Langosch is a reporter for MLB.com. Read her blog, By Gosh, It's Langosch, and follow her on Twitter @LangoschMLB. This story was not subject to the approval of Major League Baseball or its clubs.