Padres stifled by Lackey in loss to Red Sox
Padres stifled by Lackey in loss to Red Sox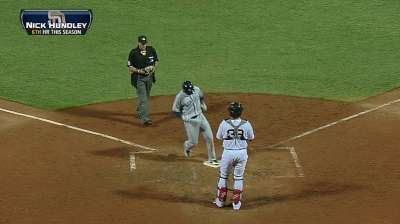 BOSTON -- For as much as he struggled in the fourth inning on Tuesday night, his command amiss and working with no feel for his offspeed stuff, Padres starting pitcher Robbie Erlin was certain that things were going to get better before they got worse.
"I honestly felt like I was one pitch away the whole time," Erlin said.
So close, yet so far.
That's quickly becoming the story of this 10-game road swing for the Padres, who dropped a 4-1 decision to the Red Sox before a crowd of 36,498 at Fenway Park.
The Padres (40-44) have dropped eight of their last 10, 10 of their last 14 and are 1-4 on this road trip that includes two more games in Boston before three against the Nationals.
On Tuesday, Erlin (1-1) got through the first three innings against the Red Sox (51-34) without allowing a run on three hits. The Padres cut down a runner at the plate in the first inning, giving them a spark, albeit a momentary one.
But in the fourth inning, the Red Sox did what the Red Sox typically do -- work deep counts, lay off some borderline pitches, make pitchers sweat. In this case it was Erlin, the 22-year-old making his third Major League start.
"My offspeed stuff wasn't there, my fastball command was spotty," Erlin said. "I just got in a jam [in the fourth] and made a mistake."
David Ortiz singled to open the fourth. Mike Napoli walked on seven pitches. Erlin struck out Jonny Gomes, but needed eight pitches to do so. Finally, Jarrod Saltalamacchia walked in a seven-pitch at-bat.
"It didn't look like he was missing a ton, but [the Red Sox] do a good job of controlling the strike zone," said Padres manager Bud Black. "But that's just how they are as hitters ... they're aggressive but can be selective at times."
The next batter, No. 8 hitter Brandon Snyder, saw nine pitches and fouled off five of them. Finally, it was a fastball that Erlin left up in the strike zone -- the 34th pitch of the inning and the last one of his outing -- that Snyder jumped on, banging it hard off the top of the wall in left-center field for three runs.
"In that particular at-bat, he fouled off a number of pitches. This is a guy that's been a good offensive player in the spare time he's played with the Rangers, a little bit with Baltimore and what we're seeing in the couple games he's played for us," said Red Sox manager John Farrell. "The bases-clearing double in the fourth was the difference in this game."
Erlin allowed three runs on five hits with three walks in 3 2/3 innings.
"They battled all through the lineup, one through nine," said Padres catcher Nick Hundley. "They battled him from the first inning. I thought we were one pitch away for a long time."
The way John Lackey (6-5) was pitching for the Red Sox, it might not have mattered.
Lackey carried a five-hit shutout into the seventh inning before Jesus Guzman hit a home run off the top of the wall in left field. Undaunted, Lackey pressed on, completing eight innings. He allowed six hits, one walk and struck out six.
"That's as good as I've seen John throw in a number of years," Black said. "The velocity was really up the first 50 or 60 pitches. He had a good breaking ball in the last few innings. His arm looked good."
Black would know, as he worked closely with Lackey when Black was the pitching coach in Anaheim when Lackey was beginning his career (2002-06).
While Erlin struggled with his command and efficiency, Lackey breezed through the first six innings, as he made short work of the Padres, who are now four games under .500 for the first time since June 10, when they were 30-34.
"You look up and he's got 50 pitches and it looks like 45 of them are for strikes," said Hundley, who hit a double in the fifth inning.
The Padres got doubles in the second, fourth and fifth innings but failed to score. In this 10-game funk, they have scored two or fewer runs seven times.
Guzman had two of the Padres' six hits. The home run was his fourth of the season. All four of his home runs this season have come on the road. He's just the fourth Padres player to hit a home run at Fenway Park. Will Venable hit the last one on June 22, 2011.
Corey Brock is a reporter for MLB.com. Keep track of @FollowThePadres on Twitter. This story was not subject to the approval of Major League Baseball or its clubs.