Gregg excited about Cubs' new arms
Gregg excited about Cubs' new arms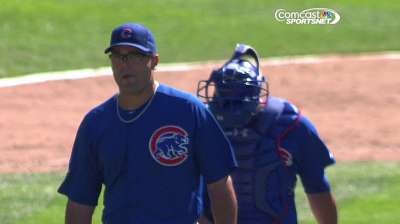 OAKLAND -- Cubs closer Kevin Gregg was a teammate of Jake Arrieta and Pedro Strop last year with the Orioles, and was with Matt Guerrier on the Dodgers during Spring Training. When he heard that the Cubs had acquired Arrieta and Strop on Tuesday, he was surprised.
"I couldn't believe when I heard it, that we got both Arrieta and Pedro," Gregg said. "That's two big pickoffs. Stuff-wise, you're looking at two good arms."
The Cubs sent Scott Feldman to the Orioles for Arrieta and Strop, and dealt Carlos Marmol to the Dodgers for Guerrier. Strop and Guerrier were expected to join the team and be in the bullpen on Wednesday, while Arrieta will go to Triple-A Iowa.
"Strop had a great year last year, and was part of the best bullpen in baseball," Cubs manager Dale Sveum said. "This year has not been going so good. I guess he was on the [disabled list] with back problems. We're getting a power arm. Guerrier will be a guy you can use in multiple roles, like [Carlos] Villanueva is for us now."
Gregg said both Arrieta and Strop have good arms and a good mix of pitches.
"Pedro is a great bullpen guy," Gregg said. "He had an outstanding year last year and just got in a funk this year. I think it'll be good to get him here and get him pitching. He needs to pitch more to be successful."
In 2012, Strop compiled a 2.44 ERA in a career-high 70 games, striking out 58 over 66 1/3 innings. He had a 7.25 ERA in 29 games this season with the Orioles.
Maybe the right-hander needs a change of scenery?
"It could be good for him," Gregg said of Strop. "He left Texas and came to Baltimore and did outstanding, and then got in a funk again. When he came to Baltimore, we weren't winning, and he got in a groove and ran with it. He had a couple rough outings and got pushed to the side a little. I'm excited. It's a great pickup for the Cubs."
Gregg also talked to Guerrier this spring about his role. The newest Cubs pitcher had a 4.80 ERA in 34 appearances with the Dodgers.
"He's a solid reliever who has been there, done that," Gregg said of the right-hander. "The change of scenery could help him, too. We talked a little in Spring Training because he was under the microscope in spring with the situation the way it was there."
Arrieta, who will likely start at Triple-A Iowa, is athletic, has a 97-mph fastball and a 91-mph slider, Sveum said.
"Those are the kind of things you're trying to get in the organization," Sveum said.
Carrie Muskat is a reporter for MLB.com. She writes a blog, Muskat Ramblings, and you can follow her on Twitter @CarrieMuskat. This story was not subject to the approval of Major League Baseball or its clubs.