Giants become second team no-hit by Bailey
Giants become second team no-hit by Bailey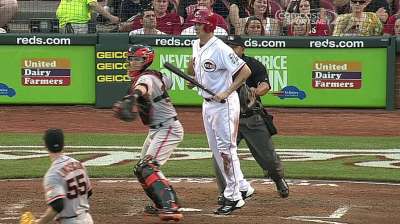 CINCINNATI -- Having reveled in numerous achievements through a relatively short span, the Giants finally found themselves on the wrong side of baseball history Tuesday night.
Cincinnati right-hander Homer Bailey silenced San Francisco's already whispering bats by pitching his second career no-hitter in the Reds' 3-0 triumph at Great American Ball Park. Only Gregor Blanco's seventh-inning leadoff walk separated Bailey from a perfect game.
The procession of thrills the Giants have sustained since 2008 -- Tim Lincecum's back-to-back National League Cy Young Awards, Jonathan Sanchez's no-hitter, Matt Cain's perfect game, Buster Posey's singular NL Most Valuable Player Award-winning season, two World Series triumphs in three years -- finally took a U-turn with Bailey's 109-pitch masterpiece.
The Giants marveled over Bailey's ability to maintain peak velocity on his 97-mph fastball for nine dominant innings.
"That's live stuff, man," Lincecum said.
Bailey (5-6), who struck out nine batters, generated many of his swings-and-misses with fastballs that grazed the upper portion of the strike zone.
"That fastball that he throws 'up,' it looks good out of his hand and stays up there," shortstop Brandon Crawford said. "And then he has good offspeed [pitches] to keep us honest. Ninety-five, 97 at the end of the game, that's tough to hit."
Hitting has challenged the Giants lately. They've scored two or fewer runs in nine of their last 12 games and are batting .193 in the eight games they've played on their three-city trip. Crawford and Blanco are hitless in their last 18 and 19 at-bats, respectively. Hunter Pence is mired in a 2-for-20 tailspin; Pablo Sandoval has one hit in his last 25 at-bats.
The Giants' 10th loss in 12 games dropped them into last place in the NL West, three games behind Arizona.
"We're sputtering offensively," Giants manager Bruce Bochy said. "You'd like to think, 'Hopefully this is rock bottom.' We have some guys really struggling at the plate right now. You just hope this is as low as it gets."
None of that diminished Bailey's feat. The 27-year-old right-hander has pitched the last two no-hitters in the Majors, pairing this one with his 1-0 decision at Pittsburgh last Sept. 28. The previous pitcher to build that streak was Hall of Famer Nolan Ryan in 1974-75 with the Angels.
"With the stuff he was throwing, I don't know what team would have hit him tonight," Bochy said.
Bailey recorded the 16th no-hitter in a nine-inning game against the Giants -- a lineage dating back to June 22, 1891, when Tom Lovett of the Brooklyn Bridegrooms beat them, 4-0. The last pitcher to no-hit the Giants was Kevin Millwood, who won a 1-0 gem at Philadelphia on April 27, 2003.
Bailey became the first Reds pitcher to accomplish the feat against the Giants. That's saying a lot, given the teams' history. Established in 1869, the Reds were baseball's first professional franchise. The Giants were born as the New York Gothams in 1883.
Bailey, who limited San Francisco to one hit in seven innings in Game 3 of last year's NL Division Series, outdid himself this time. He yielded nothing that remotely resembled a hit, though Marco Scutaro and Posey made firm contact on first-inning flies to center and Blanco lined out to left field in the fourth.
"It was a pretty easy no-hitter," Bochy said.
Andres Torres missed twice -- getting under a second-inning fly to right a little too much, then sending a soft line drive to center with two outs in the eighth. The ball briefly looked as if it might drop, but it held up long enough for Shin-Soo Choo to make an easy grab.
Torres lamented the towering fly that sounded promising off the bat.
"I thought I had it," Torres said. "I missed it a little bit. I hit that ball pretty good; it was just too high."
The Giants' most intriguing offensive sequence involved their lone baserunner, obviously enough. Blanco christened the seventh by taking an inside 3-2 delivery to dash perfect-game fantasies.
"I knew it was a ball," Blanco said. "I didn't think it was close enough to be a close pitch."
Bailey responded by coaxing grounders from Scutaro and Posey, and fanning Sandoval on a 97-mph fastball. But Posey's play briefly caused consternation.
With Blanco at second and one out, Posey hit a one-hopper to Reds first baseman Joey Votto, who looked uncertain regarding whether he had a play. He started to look toward first base, but Bailey wasn't hustling over to cover the bag. So Votto whirled and noticed that Blanco had strayed toward third. Votto threw to third baseman Todd Frazier, who tagged out Blanco to end a brief rundown.
Bochy termed Blanco's baserunning a "mistake." But Blanco pointed out that Bailey's poor execution ultimately cost the Giants. "Everything is going wrong for us right now. The pitcher didn't cover first base," said Blanco, who insisted that he would have reached third base if Bailey had dashed to the bag immediately.
Asked if he could have beaten Votto to first base had he not reversed direction, Posey said simply, "I don't know."
San Francisco received a capable effort from Lincecum (4-9), who struck out eight in 5 1/3 innings. Lincecum nevertheless absorbed his sixth consecutive road defeat as he allowed six hits and all of Cincinnati's runs.
Replay cameras did the Giants a favor in the first inning, though the Reds opened the scoring. Choo lifted a 3-1 pitch toward the right-field bleachers. The drive never got there. Pence extended his arm well above the top of the wall and kept the ball in play as it bounced in and out of his glove. Second-base umpire Fieldin Culbreth initially signaled "home run" as Pence pleaded that he knocked the ball down. The subsequent review proved Pence correct.
It also left Choo on second base. He advanced to third on a sacrifice bunt by Zack Cozart, who was safe as Lincecum threw wide to first. Votto's sacrifice fly delivered Choo.
Lincecum disappeared in the sixth, which began with Votto's sharp single. Brandon Phillips smacked a low line drive that cleared the left-field wall for his 12th homer of the season. Frazier's single one out later ended Lincecum's evening.
Bailey continued dominating the Giants. Ultimately, all that stood between Bailey and near-perfection with two outs in the ninth was Blanco, who grounded out on a 1-2 fastball. Blanco claimed that he wasn't dwelling on the drama of the moment.
"I was just trying to get on base, have a good at-bat and help the team have a rally," Blanco said.
Said Bailey: "At the end, I just kind of looked at the [catcher's] glove and threw it as hard as I could, I guess."
Chris Haft is a reporter for MLB.com. This story was not subject to the approval of Major League Baseball or its clubs.