Lawrie won't be rushed back from sprained ankle
Lawrie won't be rushed back from sprained ankle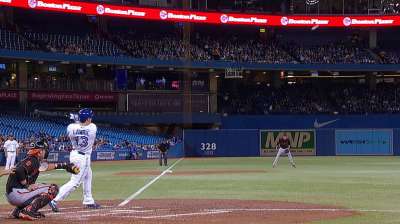 TORONTO -- Blue Jays third baseman Brett Lawrie is going to be afforded all the time he needs in the rehab of his sprained left ankle.
Lawrie was rushed to the Major Leagues in April before he was ready, and as a result, he never really found the timing he needed at the plate.
"We acknowledged it [that we rushed him] at the time," general manager Alex Anthopoulos said. "We had a need for his glove at the time.
"Ideally we would have given him more time. ... We just decided to try to have him work through his timing here, but at least we knew defensively he was going to help. And he did, but the bat obviously didn't come along."
Lawrie hit .209 with a .268 on-base percentage, five home runs, 14 RBIs and 11 runs scored in 37 games before his injury in late May sidelined him.
Initially, he was called up because of a defense that was struggling to make even simple plays, with the combination of Maicer Izturis and Emilio Bonifacio having trouble. Now, the defense has settled in and the need for Lawrie's glove isn't as pressing, especially when he still needs to find that timing on offense.
"The defense, overall, has stabilized itself," Anthopoulos said. "I think Izturis has been playing great. He's made some great plays at third. And [Mark] DeRosa has been fine when he's been over there. So I think we have time with Brett. ... I think with Brett, we'll just give him as many at-bats as we can."
Lawrie's rehab scheduled was adjusted this week because of rain in the Central Florida region. Lawrie has left Class A Dunedin and will travel to Class A Lansing on Wednesday and is expected to play the following day. It's not known how long he'll need in Lansing, but he'll likely advance to Double-A New Hampshire and then Triple-A Buffalo before rejoining the Blue Jays.
Lawrie, who began a 20-day assignment last Wednesday, will likely serve out the full duration of that assignment, which would end during the All-Star break.
Gregor Chisholm is a reporter for MLB.com. Read his blog, North of the Border, and follow him on Twitter @gregorMLB. Evan Peaslee is an associate reporter for MLB.com. This story was not subject to the approval of Major League Baseball or its clubs.