Lough carves niche with four extra-base hits
Lough carves niche with four extra-base hits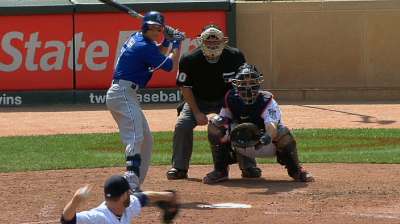 KANSAS CITY -- With three doubles and a home run in Sunday's win over the Twins, rookie outfielder David Lough carved out a place in Royals history.
Lough is in fine company, joining Hal McRae, Lonnie Smith, Johnny Damon and George Brett as the only players in franchise history with four extra-base hits in a game. Three players managed to do so in nine innings, while Brett's came in a 16-inning game where he hit one double, one triple and two home runs on May 28, 1979. He also had four runs and three RBIs in the Royals' 5-4 win over the Orioles.
"I've just been up here a short while and just to be mentioned with those guys is something I want to keep working on, and be as consistent as I possibly can," Lough said.
Lough is only the seventh rookie to accomplish the feat since 2000 and first since San Diego's Khalil Greene did it in six at-bats on Aug. 13, 2004, against Cincinnati.
"It definitely gives me a boost of confidence, but it is just one game and I know that," Lough said. "I just try to bring it into the next game and be as consistent as I possibly can."
Lough entered Tuesday ranked second among American League rookies with a .314 batting average and holding his own in the outfield, ranking second with four assists.
Dick Kaegel is a reporter for MLB.com. Kathleen Gier is an associate reporter for MLB.com. This story was not subject to the approval of Major League Baseball or its clubs.