Tabata goes through rehab assignment without setback
Tabata goes through rehab assignment without setback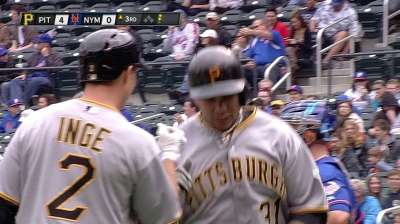 PITTSBURGH -- Pirates manager Clint Hurdle said Tuesday that Jose Tabata's rehab assignment went "as well as we could have hoped."
Tabata has been on the disabled list with a strained left oblique since May 27, and he made his first rehab start with Triple-A Indianapolis on June 21. He hit .179 with a .744 OPS in nine games with the Indians.
"There was no re-injury," Hurdle said. "He was able to move forward, get at-bats, play the outfield, run the bases, bunt, attempt to steal. Those types of things."
Brandon Cumpton, who started Tuesday, will likely be optioned to Indianapolis, since he was needed only to give Jeff Locke an extra day of rest. That would leave a roster spot open for Tabata, who is still at Triple-A.
Steven Petrella is an associate for MLB.com. This story was not subject to the approval of Major League Baseball or its clubs.