Redmond endorses Fernandez for All-Star Game
Redmond endorses Fernandez for All-Star Game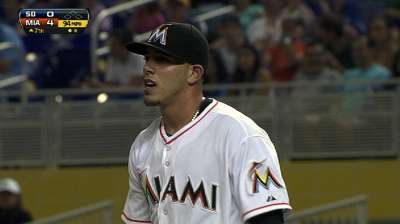 ATLANTA -- If those selecting the National League pitching staff for the All-Star Game are on the fence, Mike Redmond is giving his endorsement to Jose Fernandez.
Quite frankly, Fernandez was dominating in the Marlins' 4-0 win over the Padres on Monday evening at Marlins Park.
The 20-year-old rookie struck out 10 and allowed just two hits over eight scoreless innings.
Fernandez lowered his ERA to 2.72, moving ahead of St. Louis' Shelby Miller (2.79) to lead all NL rookie starters in ERA. Overall, Fernandez ranks 10th among National League starters.
Asked if Fernandez should be an All-Star, Redmond said on Tuesday: "I don't make those decisions, but I think he should be. He's been consistent. He's pitched well. I guess it just depends on what do they need? Do they need another starter? He's pitched really well for a young kid."
On a team with 30 total wins, Fernandez sports a 5-4 record, and he has 94 strikeouts in 92 2/3 innings.
Redmond sees Fernandez's impact similar to that of Dontrelle Willis, who was an All-Star as a rookie in 2003.
"I think back to Dontrelle. He came up and won nine straight games," said Redmond, a backup catcher on that team. "Had we had maybe this team from the first start, maybe [Fernandez's] record would be a lot better."
According to STATS LLC, on Monday, Fernandez became the third pitcher since 1921, age 20 or younger, to combine for 10-plus strikeouts, two hits or fewer and one walk or fewer in a game. Dwight Gooden (1984) and Kerry Wood (1998) were the others.
"You look at a game like that," Redmond said. "He was dominating."
Fernandez defected from Cuba five years ago, and he made the leap to the big leagues without pitching higher than Class A.
Fernandez's next start is scheduled for Sunday at St. Louis.
"I think you are looking at the guy who has the ability to be the face of our franchise," Redmond said. "A guy who is 20-years-old, and he's come to the big leagues, and he's been so good for us. You look at his story and what he's been able to do. He's a great story. He's got the ability to be a No. 1 pitcher for a long time."
Joe Frisaro is a reporter for MLB.com. He writes a blog, called The Fish Pond. Follow him on Twitter Share This