Day after rough miss catch, Parra gets day off
Day after rough miss catch, Parra gets day off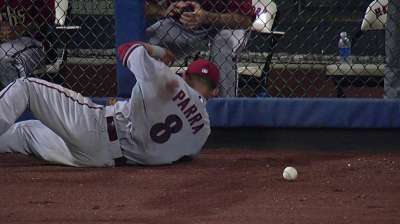 NEW YORK -- With his body bruised and face bleeding and having ingested part of the Citi Field warning track on Monday, D-backs right fielder Gerardo Parra began arguing with manager Kirk Gibson.
Parra had just missed making a spectacular grab of an Omar Quintanilla fly ball, face-planting on the warning track in the eighth inning.
Concerned about his outfielder, Gibson told Parra he was taking him out of the game.
"I said, 'No I'm good, I'm good,'" said Parra, who estimates Gibson told him 10 times he was going to take him out.
"The last one I said all right."
Parra returned to his hotel room following the D-backs' 5-4, 13-inning loss and was so uncomfortable that he could not sleep. Once he arrived at the ballpark Tuesday, Parra was laying on the training table getting work done when Gibson walked in and asked head athletic trainer Ken Crenshaw if today would be a good day to keep Parra out of the lineup.
More than what Crenshaw said, it was what Parra didn't say that cinched the deal.
"He was laying there and he didn't say anything, so that told me," Gibson said.
Gibson left Parra out of the starting lineup Tuesday for the first time since April 30. Parra, you see, does not like days off and has talked Gibson out of giving him one numerous times since the last one.
"I don't like a day off," he said. "I don't like anything like that. But just today, maybe because I don't feel I'm at 100 percent."
Parra has been slumping at the plate of late, and it was suggested that maybe a day off might help snap him out of his offensive woes.
"I know the last five days I don't feel good at home plate, but I don't like taking a day off because I'm not hitting," Parra said. "I just want to continue to play every day. I feel good when I play every day. If I'm not hitting good, I go and play defense hard. The point is, play every day."
And one more thing. Don't try and tell him that was a great play.
"I don't like it, because I didn't catch the ball," he said. "Next time, I got it, for sure."
Steve Gilbert is a reporter for MLB.com. Read his blog, Inside the D-backs, and follow him on Twitter @SteveGilbertMLB. This story was not subject to the approval of Major League Baseball or its clubs.