Oswalt, offense stumble against Dodgers
Oswalt, offense stumble against Dodgers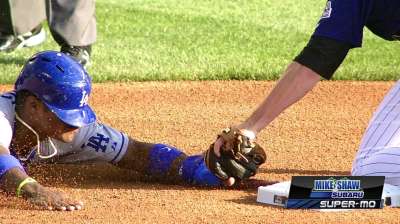 DENVER -- The crowd of 37,419 at Coors Field Tuesday night became the latest observers of the Yasiel Puig Show, watching the Rockies crumble, 8-0, under the force of a dominant ace and the remarkable bat of the Dodgers' rookie sensation.
The Rockies offense managed a grand total of four singles off Clayton Kershaw, the ace tossing his first shutout against Colorado and his second of the year. With late, deceptive movement on his pitches, Kershaw struck out eight and did not walk a single batter.
It was just the 11th shutout by an opposing pitcher in the history of hitter-friendly Coors Field.
"He had his 'A' game," Rockies manager Walt Weiss said. "There's no question, tonight it was going to be tough to score off him. He's at the top of his game, and when he is, you got to scratch and claw for everything."
The Dodgers' ace also managed to end Michael Cuddyer's 27-game hitting streak. Cuddyer's streak was four games longer than the franchise's previous record of 23 games, set by hitting coach Dante Bichette in 1995.
Cuddyer, however, was all smiles after the game, proud of the achievement and the fact that his streak ended against a purely dominant Kershaw.
"If it was going to end, might as well end against the best pitcher in the league," Cuddyer said.
Carlos Gonzalez depicted the entire lineup's frustration when he swung so hard on a fourth-inning strikeout that his bat flew into the infield, the left fielder electing to head straight for the dugout rather than pick up the bat. Gonzalez, who struck out in three of his four plate appearances, sent his bat flying into the stands again in the ninth, flummoxed by the Dodgers' southpaw.
"Just don't walk guys," Kershaw said of his strategy at Coors Field. "You never want to, but here it seems like they're going to score every time. Go right at guys. Let them get their hits."
The loss pushed the Rockies to two games under .500 as they fell to 2-3 in their seven-game homestand. It continued Los Angeles' sudden climb, as the Dodgers have won nine of their last 10 games.
The third start of Roy Oswalt's comeback tour went worse than the previous two. Oswalt surrendered at least one hit in all five innings he pitched, pulled after allowing five earned runs and nine hits while striking out five.
Oswalt admitted that he depended too much on his fastball, putting too much effort into overwhelming hitters rather than finding a way to get them out.
"I think I'm trying to be too fine," Oswalt said. "Trying to throw that nine-inning shutout, 70 pitches, instead of being aggressive like I've always been. After the home run I pretty much went all out, felt a lot better after that.
"I think the biggest thing is we haven't been using [the secondary pitches] until I get in trouble. I start getting in trouble, I use it, it's pretty good."
Oswalt said an example of his excessive tendency to use the fastball came against Adrian Gonzalez, who belted a two-run homer in the second off a fastball inside. The National League veteran said he had pitched Gonzalez inside for years, and that he needed to mix it up with more off-speed, creative pitches.
It was no help that the offense could barely produce a hit -- much less a run -- behind him, entranced by Kershaw's spell from the opening innings.
"His fastballs were looking over the plate, not over the heart of the plate, but over the plate, at the very last second was cutting on righties, away to lefties," Cuddyer said. "So he was tough tonight."
Oswalt did look in control at times, striking out five. But the right-hander, seen as the reliable arm that could complete the rotation when he made his first start with Colorado 12 days ago, has gone no more than six innings and allowed at least four earned runs in all three of his starts.
But Weiss remains confident Oswalt will turn things around.
"I've seen enough, his first few times out here, to think that he still could be effective," Weiss said.
Oswalt's troubles began in the second, when Hanley Ramirez -- owner of a 13-game hitting streak -- and Andre Ethier knocked back-to-back singles to right. A groundout to third baseman Nolan Arenado, which he briefly fumbled, plated Ramirez before Juan Uribe hopped a single over the pitcher's mound to score the Dodgers' second run.
Puig's performance started in modest fashion when he dropped a single into left in the first. All eyes again returned to the rookie phenom in the third and he did not disappoint, punching a double off the right-field wall with a swing so easy it looked more like that of an infield pop-up. Gonzalez followed with his 11th homer to a similar spot, this one traveling over the wall, putting Los Angeles up, 4-0.
Puig later launched an Adam Ottavino slider off the end of his bat that cleared the center-field barrier, dropping into the Dodgers' bullpen. His eighth homer only added to the spectacle, giving the Dodgers a 6-0 lead in the seventh.
Seasoned big leaguers remain hesitant to label Puig the next great hitter, no one denying he's an exceptional talent but also not eager to feed the hype machine. Todd Helton, who stood above .400 as late as Aug. 21 in 2000 and eventually finished at .372, may be as good a judge as anyone.
"The way he swung tonight, he damn well might," Helton said of Puig's chances to maintain anything close to his .443 average. "He's a physical specimen. From what I've seen in one game, he's got a pretty simple swing that is probably pretty easy to repeat."
Ian McCue is an associate reporter for MLB.com. This story was not subject to the approval of Major League Baseball or its clubs.