Wang designated after rough outing in loss to Tigers
Wang designated after rough outing in loss to Tigers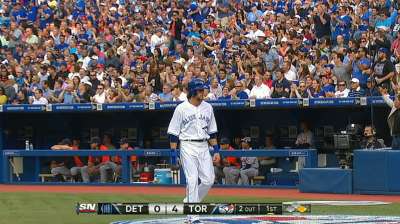 TORONTO -- Chien-Ming Wang became one of the surprise storylines for the Blue Jays during the month of June, but unfortunately for the veteran right-hander, he wasn't able to keep the momentum going.
Wang's tenure in Toronto officially came to an end on Tuesday night when he was designated for assignment after another poor showing. The issues began last week in Boston and carried into his most recent start at Rogers Centre.
The final blow came when Wang recorded just five outs while surrendering six runs on eight hits in the Blue Jays' 7-6 loss to the Tigers in front of 27,189 fans.
"He competes, he's a real pro, and we like having him around," Blue Jays manager John Gibbons said. "We hope he chooses to stay and pitch for us down there in Triple-A, with a shot to come back. He can choose to be a free agent if he wishes, but I'd love to have him around -- he's a true pro."
Wang pitched at least 6 1/3 innings during each of his first three starts with the Blue Jays. He allowed just six runs over that span, with almost all of the damage coming in one inning against the White Sox. It was a feel-good moment for the 33-year-old who hadn't made a significant impact at the big league level since 2008.
The positivity was quickly erased on Thursday in Boston as he managed to last just 1 2/3 innings, and the Blue Jays couldn't afford to wait around any longer after Wang experienced similar results against Detroit. The fact that Wang has pitched just 3 1/3 innings while surrendering 13 runs on 18 hits over his past two outings was too much to ignore.
Wang's future is in his own hands. He can either report to Triple-A Buffalo or opt for free agency and take his chances with another organization. Wang only had a few minutes to prepare before meeting with the media on Tuesday night and wasn't sure which option he'd take.
"I will probably decide tonight or tomorrow," said Wang, who was staked to an early 4-0 lead, but was unable to hold the Tigers in check.
The Blue Jays recalled right-hander Todd Redmond from Triple-A Buffalo to take Wang's spot on the 25-man roster. Redmond's numbers aren't exactly pretty (3-1, 5.06 ERA in six games), but he was scheduled to start on Wednesday and should be able to provide some rest to a bullpen that was forced to work 7 1/3 innings on Tuesday night.
What happens after that is anyone's guess. Gibbons said Redmond likely would take Wang's next scheduled start unless he needs to pitch a lot before then, but it seems just as likely the club could seek out alternative options.
Top prospect Marcus Stroman possibly entered the mix after another impressive start for Double-A New Hampshire on Tuesday night. Stroman tied a Fisher Cats franchise record by striking out 13 while allowed three runs over 6 1/3 innings.
Even more impressive, Stroman entered the game having allowed one earned run or fewer in each of his past five starts. The problem is that Stroman is just 22 years old and the Blue Jays don't want to rush him to the big leagues until he's ready.
"We know what he's doing, but who knows what happens down the road," Gibbons said. "You want to give the young guys plenty of time."
The only scenario that was completely ruled out was the possibility of converting a reliever into a starting role. The club opted to do that earlier this season with right-hander Esmil Rogers, but the options aren't as viable this time around.
Dustin McGowan's starting days are ancient history following a series of shoulder injuries over the years, while the club seems extremely reluctant to alter the role of left-hander Juan Perez. The 34-year-old has yet to allow an earned run in 17 2/3 innings this season, but doesn't really have the capability to pitch deep into a game.
"He's probably going to stay in the 'pen," Gibbons said. "Just his style of throwing, he throws a lot of pitches and he's a max-effort kind of guy. At this stage of his career, he has pitched very well coming out of the 'pen, so our preference is to leave him down there where he's thriving right now. He's not a young kid, and maximize what he's doing well."
Despite Wang's poor showing, Toronto did manage to battle back in the second when Colby Rasmus sent a two-run shot over the wall in center to tie the game at 6. That continued a strong night at the plate for the center fielder, who recorded a two-run double in the first.
Tigers right-hander Doug Fister was charged with all six runs during the first two innings, then settled into a groove and found a way to contain the Blue Jays' offense. Fister came out after the sixth having allowed seven hits and one walk while striking out four.
The game remained tied until the eighth when Omar Infante led off for Detroit with a sharp single to second. He was bunted over to second base and later scored as Torii Hunter recorded an infield single after just beating a throw to first by shortstop Jose Reyes.
"That's a great feeling," said Hunter, whose team won for just the second time in eight games. "We've been scuffling, but that's all baseball. I don't know what team in baseball history that didn't have a streak like this. I definitely think we got closer, really our first time struggling like that. It's something we can try to build off of and bounce back."
Toronto has lost six of its past nine games since an 11-game winning streak near the end of June. The club finds itself one game below .500 with two more games remaining in its series against Detroit.
Gregor Chisholm is a reporter for MLB.com. Read his blog, North of the Border, and follow him on Twitter @gregorMLB. This story was not subject to the approval of Major League Baseball or its clubs.