Orioles grounded in Chicago as winning streak ends
Orioles grounded in Chicago as winning streak ends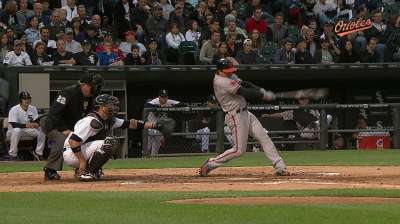 CHICAGO -- Coming off a sweep of the New York Yankees, the high-flying Orioles were grounded by a last-place White Sox team on Tuesday night, halting their upward swing in the American League East with their first loss in five games.
Seeking to go a season-high 12 games over .500, Baltimore (47-37) was stonewalled by Chicago starter John Danks -- who held one of baseball's best lineups in check over seven-plus innings -- with O's starter Jason Hammel serving up a pair of pivotal homers in the 5-2 loss at U.S. Cellular Field.
The defeat, in front of a crowd of 19,746, coupled with Boston's win puts Baltimore 3 1/2 games back in the AL East. It also marked the sixth consecutive start Hammel has allowed at least one home run as the 29-year-old, who has given up four or more earned runs in three of his last four outings, continues to search for his impressive 2012 form.
"The home runs are killing me this year," said Hammel, who is tied for second in the AL with 18 homers allowed. "That's the bottom line."
"I don't know how to answer [why], just balls up in the zone that are getting hit out this year that weren't last year. That's just the way I'm going right now. Mistakes are being amplified."
Hammel, trying to become the first AL starter to reach six road wins this season, struck out seven and matched Danks early. The right-hander didn't allow a run until Gordon Beckham's fourth-inning single and took the mound in the seventh in a 2-1 hole after Conor Gillaspie sent a 1-0 fastball an estimated 375 feet into the right-field seats for a home run in the sixth. But the White Sox put together a three-run frame, highlighted by Adam Dunn's two-out two-run homer, to snap their five-game skid.
"The game plan with Adam Dunn is to make him aware of the outer corner, but he's obviously trying to pull and jerk it and hit a home run," said Hammel, who had Alejandro De Aza 0-2 before hitting him with a pitch to put a man on. "[Dunn] somewhat dives, has an open stance a little bit and you can get in on him with it off the plate and in. And that one was barely off the plate and up, and that's a ball he can handle."
Dunn's homer marked the 10th long ball off Hammel in his last six games, and is a recurring problem for an inconsistent Orioles rotation hoping to be bolstered by Tuesday's trade for Scott Feldman. The Orioles, while hitting their fair share of homers, have given up 115, which is tied for most in the Majors.
"Of course," Orioles manager Buck Showalter said of wanting that number to improve. "I think the big thing when you look back at stuff like that, how they got on base before they hit it. Solos don't do much to you. It's what happens to set up those multiple runs."
"Ham, if that's what some people remember [about the game], I look at how well he pitched up until that home run to Dunn there. It's something that you try to cut down on, but I try to dwell on the positive where he's concerned. I thought he pitched well enough to win tonight."
The O's first run off Danks came on a homer, with Brian Roberts ambushing a first pitch with one out in the third inning. Roberts, in his second game back off the disabled list, put Baltimore on the board with his first home run since April 13, 2011.
"It's good to see him just in this clubhouse and in that lineup," center fielder Adam Jones said of Roberts, who also made an excellent play in the field. "All the hard work he's put in, it's good to see him back. He's a big lift for our team, not just on the team but emotionally."
Added Showalter: "Brian doesn't take anything for granted. He's taking each day as a great opportunity."
Nick Markakis and Manny Machado followed Roberts with a pair of singles, but Danks got J.J. Hardy to fly out and Jones to pop up to quash the threat. The White Sox southpaw went on to retire 13 of the 14, scattering six hits en route to his second victory.
"Obviously, those guys [Chris Davis and Machado] are having tremendous years," Danks said. "One through nine in that lineup, I think I made a comment to [Chris] Sale in the middle of the game about how that lineup doesn't let off. It's tough. You got to be, careful is not the right word, but you got to be smart with everybody in that lineup. Obviously, there were some mistakes that they hit. For the most part, I got away with some stuff, made some pitches when I needed to and guys caught the ball behind me.''
The Orioles didn't get a leadoff man on until Markakis delivered his second hit of the night with an eighth-inning single to chase Danks. After Machado walked, Hardy grounded into a double play off reliever Nate Jones, and Adam Jones singled in Markakis to pull the O's within three. But that's as close as Baltimore would get as Matt Thornton retired red-hot Davis to end the frame.
"He's been around a while," Roberts said of Danks. "He knows how to pitch and with guys on base, he seems to get a little tougher. He used his changeup more, and he's got a good one. I think as much as anything he's good at disrupting your timing, mixing up hard and soft, and he did a good job of that tonight."
Brittany Ghiroli is a reporter for MLB.com. Read her blog, Britt's Bird Watch, and follow her on Twitter @britt_ghiroli. This story was not subject to the approval of Major League Baseball or its clubs.