Bucs' streak ends at nine as bats fall silent vs. Phillies
Bucs' streak ends at nine as bats fall silent vs. Phillies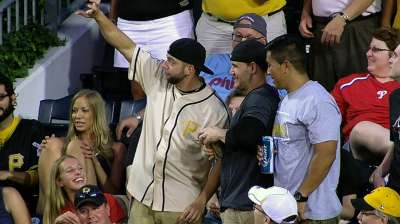 PITTSBURGH -- It couldn't go on forever, could it? The Pirates' current run, or Brandon Cumpton's dominant outing, that is.
Cumpton tossed five scoreless innings Tuesday, but the Phillies struck for three runs in the sixth in their third time around the order to snap the Pirates' nine-game winning streak with a 3-1 win in front of 30,301 at PNC Park -- the Bucs' seventh straight home game with at least 30,000 in the seats.
"We can't win them all," first baseman Garrett Jones said. "But if we keep playing good baseball, we'll win more than we lose."
The 24-year-old Cumpton, making his third career start, was chased after 5 2/3 frames, allowing six hits and three runs while striking out three. He got the call Tuesday when Jeff Locke, the only pitcher with whom the Pirates broke camp that's currently in the rotation, needed an additional day off because of an extensive warmup in extra innings Sunday. Cumpton will likely be optioned back to Triple-A Indianapolis on Wednesday.
Cumpton threw five innings in each of his first two starts, and couldn't complete the sixth again Tuesday. But once again, he gave the Pirates a chance.
"That's my job to go out there and get through six or seven, and unfortunately I haven't gotten through the sixth yet," Cumpton said. "But I kept it close, I feel like. The bullpen did really good tonight and we just didn't come through with some clutch hits, but hopefully tomorrow night we will."
The Phillies drew first blood with a Ryan Howard RBI single. Dominic Brown followed with a sacrifice fly to score Jimmy Rollins, and Delmon Young drove in Howard with a double into the left-center-field gap. Justin Wilson came on and forced a Ben Revere groundout, then pitched a perfect seventh. Bryan Morris pitched a scoreless eighth and ninth for the Pirates.
Jonathan Pettibone stymied a Pittsburgh offense that averaged almost six runs per game during its nine-game winning streak. The Pirates mustered just three hits and one run off the Phillies righty in 5 2/3 innings.
Pittsburgh did knock on the door in the eighth, trailing by two, but couldn't break through. Russell Martin walked to start the inning, then after an Andrew McCutchen flyout and a Brandon Inge strikeout, Pedro Alvarez walked and Neil Walker singled to left. But Justin De Fratus, the third pitcher of the inning, fanned Jordy Mercer with the bases full to preserve the two-run lead.
"With our team, and good teams, it just takes that one inning or couple innings, whether it's the first or ninth to explode and score a bunch of runs," Jones said. "We had some opportunities, but we just couldn't come through with that big hit. But we're confident in what our offense can do."
"Honestly, I've already failed enough, I'm going to get this one done," said De Fratus, who took the loss in three of his last four starts. "All joking aside, it was a chance to redeem yourself and get it done."
Jones cut into the lead with a solo homer in the bottom of the sixth after McCutchen grounded into a double play. Pettibone was pulled after that in favor of Jake Diekman, who issued a walk to Alvarez, but punched out Walker to end the frame.
The Pirates had a chance to chip away at the lead some more in the seventh, but Mercer was gunned down by Brown trying to stretch a leadoff single into a two-bagger. Travis Snider singled, but Gaby Sanchez and Starling Marte flew out to end the inning.
"[Mercer] went, he's out. You never want to be out in that situation. But you've got a left fielder that's left-handed, he's got to spin-throw and make a throw to the base," Pirates manager Clint Hurdle said. "So we live with it. That's the way we play. We live with it."
With Cumpton's outing, Pirates pitchers have now gone 16 straight starts giving up three runs or fewer. Pettibone has given up just three runs, all solo homers, in 11 innings against Pittsburgh this year.
The Pirates' bullpen, one of baseball's best this season, threw 3 1/3 scoreless innings, extending its streak to 24 1/3 without surrendering a run.
Philadelphia used six relievers, including three in the eighth. Jonathan Papelbon shut the door in the ninth after blowing four of his last six save opportunities, all in the last two weeks.
"We got it done," Phillies manager Charlie Manuel said. "But it was kind of hard to watch."
Steven Petrella is an associate for MLB.com. This story was not subject to the approval of Major League Baseball or its clubs.