Morales' monster game leads Mariners to win
Morales' monster game leads Mariners to win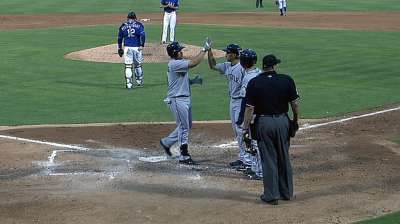 ARLINGTON -- Designated hitter Kendrys Morales provided the firepower with two home runs in a six-RBI night and starter Joe Saunders gladly accepted the support as the Mariners topped the Rangers, 9-2, on Tuesday in the opener of a three-game series in Texas.
Morales hit two of Seattle's three home runs off Rangers right-hander Justin Grimm, and later added a two-run single in helping Saunders record his first regular-season win at Rangers Ballpark in Arlington.
Morales had been dealing with a sore back in recent weeks, and he hit just .183 over his previous 19 games, with one home run in all of June. But manager Eric Wedge said he was finally swinging free and easy again, and the results showed.
"There is no more pain," Morales said through interpreter Jaime Navarro. "I feel great. Right now the pain is not there, and I'll just keep playing and doing the things I need to do."
Raul Ibanez and Morales launched back-to-back homers in the first inning off Grimm, and the Mariners continued adding on as they snapped a four-game losing streak at Rangers Ballpark.
Saunders had an even longer streak in Arlington, coming in with an 0-7 record and 9.91 ERA in seven regular-season starts. But the 32-year-old lefty put an end to that skid as he scattered 10 hits over 6 2/3 innings and allowed just two runs.
Saunders worked around trouble in the third and fourth innings -- giving up only one run despite four hits, a walk and hit batter in those two frames -- and limited damage throughout the game in improving to 6-8 with a 4.74 ERA.
"That was huge," Saunders said of keeping the Rangers off the board when they threatened early. "It was a battle tonight. They battled me pretty good. I threw strikes and our defense made some pretty big double plays behind me. So hats off to them. Hats off to the offense. It was a good win."
The Rangers racked up 11 hits, but were 2-for-11 with runners in scoring position. They also didn't have an extra-base hit and knocked into four double plays, including Elvis Andrus' to end the game.
"When we did hit [Saunders], it was at someone," said Texas manager Ron Washington. "He threw well tonight. When they put the amount of runs they put on the board, being a veteran, [Saunders] just threw strikes and let whatever happens, happen."
Ibanez started July the same way he ended June, ripping his team-leading 20th homer of the season and sixth in his last eight games. Ibanez, 41, surpassed the 19 home runs he hit all of last season with the Yankees and became the first Mariner to reach 20 home runs prior to the All-Star break since Russell Branyan hit 22 in 2009.
Morales said he and his teammates are feeding off the tone set by Ibanez, whose 20 home runs are tied for fifth in the American League with the Yankees' Robinson Cano and Texas' Nelson Cruz.
"Everybody knows what Raul means on this team," Morales said. "This is an indication of what he means to us inside and outside the field. We take that as something positive, and we just follow him and do the things we need to do."
Ibanez happily talked about the lift Morales gave the club and how well the team hit as a group on Tuesday. But, as usual, he didn't want to spend a lot of time analyzing his own terrific first half.
"It is what it is, kind of thing," Ibanez said. "I try not to dwell on it a whole lot and just keep plugging away and doing my thing. The preparation, the work in the cage, continuing trying to have the right approach and hit the ball on the barrel, that's pretty much all you can do."
Morales followed Ibanez in the first with his 10th homer, a 384-foot shot to right field, and then blew the game open with his three-run shot in the fifth that ended Grimm's night and gave Seattle a 6-1 lead. His two-run single in the sixth tied his career high with six RBIs and pushed him past Ibanez for the team lead with 48 on the season.
Morales finished 3-for-5, raising his batting average to .282, while Kyle Seager and Nick Franklin added two hits apiece. All nine Seattle starters had at least one hit as the Mariners totaled 13 on the night.
"If we can get a couple of guys going at the same time, we'll have more nights like this," Wedge said. "Let those veterans lead the way, and the younger kids are developing confidence day in and day out. We have that second swing of younger guys in here now. We're able to run out seven, eight guys a night that potentially can be part of this moving forward.
"As we keep going with this, that's what I want to see. I want to see these type of at-bats. And hard outs. Good outs. That's what we did this spring. You get banged up, a couple of guys get off to bad starts, and you kind of lose your mojo there. This was really good to see."
Dustin Ackley, playing his third game in center field and the first since he sprained his wrist on a diving attempt on Saturday, laced an RBI double in the fourth, and rookie catcher Mike Zunino's run-scoring single in the seventh gave Seattle a 9-1 lead.
Greg Johns is a reporter for MLB.com. Follow him on Twitter @GregJohnsMLB as well as his Mariners Musings blog. This story was not subject to the approval of Major League Baseball or its clubs.