Baker suffers setback with sprained thumb
Baker suffers setback with sprained thumb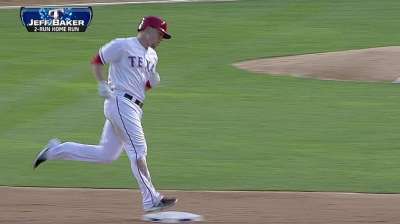 ARLINGTON -- Jeff Baker had a setback with his sprained right thumb over the weekend. Baker saw a hand specialist on Monday and received a second cortisone shot, this time on the joint instead of the muscle. He will wear a splint for at least three days.
"I'm hoping this does the trick, put it behind us and move forward," Baker said. "Hopefully this will do it, if not it's just like anything else, and you go back to the drawing board to see what we can do."
The utility man said he tried to progress from swinging off a tee to hitting in the cages on Friday, but he couldn't control the bat head. He got five swings in the session before he stopped due to the pain.
"It's like a sprained ankle. You want to try to strengthen it and build it up, but it's also a pain tolerance," he said. "Anytime you have a sprain, you have a tear in there. If you keep beating it up, it's not going to heal. I tried to push it and progress it to see if I could get past that threshold. Off the tee and soft toss was fine, but during [batting practice] I couldn't do it."
Baker has moved past the frustration of the injury, which occurred during a celebratory high-five.
"Now it's just busting my tail and doing whatever I can with treatment and therapy," he said. "Our doctors are obviously doing everything they can."
Also out of the starting lineup on Tuesday was Lance Berkman, but he hopes to play Wednesday. Berkman swung in the cages and on the field Tuesday before the game. He said his right knee had bothered him a bit at the plate, but it progressed with the off-day Monday.
"Confident? I can't say that," Rangers manager Ron Washington said on Berkman's possible return Wednesday. But I hope so."
Jurickson Profar was the team's designated hitter in place of Berkman, and he was 1-for-3 in the 9-2 loss to the Mariners.
Master Tesfatsionis an associate reporter for MLB.com. This story was not subject to the approval of Major League Baseball or its clubs.