Alvarez, slated for Thursday debut, will bolster rotation
Alvarez, slated for Thursday debut, will bolster rotation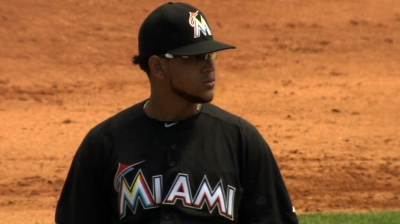 MIAMI -- Henderson Alvarez will make his Marlins' debut in Thursday's series finale against the Braves.
Manager Mike Redmond announced that Alvarez, who has been on the disabled list since SpringTraining with right shoulder inflammation, will follow Ricky Nolasco when he joins the rotation.
"He's going to pitch Thursday after Ricky," Redmond said. "[Tom] Koehler will throw tomorrow, Ricky Wednesday and then Alvarez. Then we will adjust."
Redmond does not know what his starting rotation will look like beyond that. The rookie manager said a six-man rotation is not an option. Jose Fernandez, Jacob Turner and Nathan Eovaldi are the other three starters.
Alvarez wrapped up his rehab assignment on Friday with an impressive start, throwing 7 2/3 scoreless innings for Double-A Jacksonville. The right-hander, who tossed a bullpen session at Marlins Park on Sunday, is set to join the rotation after allowing just three earned runs over 24 1/3 innings spread over four rehab outings.
Marlins catcher Jeff Mathis is familiar with Alvarez, because they played together for the Blue Jays in 2012. Mathis believes the addition of Alvarez will help bolster an already talented young rotation.
"He's another good, live young arm," Mathis said. "He knows how to pitch, and he's had success. He has some innings under his belt at the big league level. We're hoping he can come in and pitch like he is capable of and stay healthy."
The return of Alvarez would give the Marlins the rotation that many projected as the team headed into Spring Training. Redmond is excited to see what the group can do now that they are all available.
"That's one thing we missed coming out of Spring Training," Redmond said. "Having Eovaldi and Alvarez get hurt, we weren't really able to see what those guys were capable of doing. Now it's nice to get those guys down there and create some stability and see what they can do over the course of a season."
David Villavicencio is a contributor to MLB.com. This story was not subject to the approval of Major League Baseball or its clubs.