D-backs fall in 13th inning for fourth straight loss
D-backs fall in 13th inning for fourth straight loss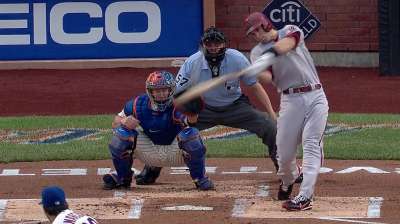 NEW YORK -- The D-backs' road trip woes continued as they suffered a 5-4 walk-off loss in 13 innings to the Mets on Monday night.
The D-backs have now dropped four straight games and are 1-6 on this 10-day road trip.
"It's just kind of more of the same," D-backs manager Kirk Gibson said. "Some bad luck and we could have executed better in all phases, but we didn't. It was a tough loss."
It almost seemed like two losses as the D-backs lost two late leads.
The D-backs led, 3-2, heading into the ninth before allowing the Mets to tie it.
Then, after reclaiming a 4-3 lead in the top of the 13th, they watched the Mets' Andrew Brown line an 0-2, two-out hit to left to drive in two runs for the win.
"It's hard to swallow," catcher Miguel Montero said. "It's pretty bad. Unfortunately we couldn't keep the lead and that's what's been killing us. We got the lead early on and couldn't hold it, and then got the lead again in the 13th and they came back again and beat us. It's bad. It stinks, but it is what it is. We've got to do a better job on that."
Better at closing out games he means. The D-backs have now converted just 22 of 38 save chances, with their 16 blown saves tying them for the Major League lead with the Dodgers, Cubs and Orioles.
The D-backs built a 3-0 lead in the game thanks to a two-run homer by Paul Goldschmidt in the first inning and an RBI single by Aaron Hill in the second.
The 20 homers for Goldschmidt matches his total from last season, when he set a career high.
Arizona starter Wade Miley tossed 5 2/3 scoreless innings and led 3-0 when he departed, but the left-hander is not blameless because he pitched himself into trouble throughout, which ran up his pitch count and prevented him from pitching deep into the game.
"Still too much of that -- behind in the count and stuff," Gibson said of Miley.
The Mets chipped away at the lead, scoring a run in the seventh off Brad Ziegler and another in the eighth off David Hernandez.
Closer J.J. Putz, who had pitched just one-third of an inning since being activated from a 50-plus day stint on the disabled list, allowed a one-out double off the wall to Marlon Byrd in the ninth and Josh Satin followed with a line-drive single to left to score Byrd with the tying run.
"I left it up," Putz said of the pitch to Satin. "It's like the same old stuff. I left a split up and got beat with it again."
It looked like the D-backs had Byrd nailed at the plate, but Montero had trouble handling Jason Kubel's one-hop throw.
"I saw the runner coming and I just looked at him to see how far he was, just to see if I had time," Montero said. "The grass was a little wet, so it gave me like a funny bounce, a hard bounce. It was a good throw. There's no excuse. It was a good throw and I took my eyes off the ball, regardless, and that was when I missed it."
Cody Ross gave the D-backs another lead when he began the 13th inning with a home run to left.
"Every loss is a tough one, but this one stings a little bit," Ross said. "But the beautiful thing is we get to come out tomorrow and get right back at it."
Josh Collmenter got the final out of the 12th for the D-backs and Gibson left him in to try and close it out in the 13th.
You had to like Collmenter's chances of picking up the win since he was 4-0 coming into this outing with all four off those victories coming in extra innings.
However, after striking out Byrd to start the inning, Collmenter allowed a double to Satin and then intentionally walked John Buck.
Pinch-hitter Matt Harvey -- the Mets were out of position players by that point -- sacrificed the runners to second and third and Collmenter intentionally walked Omar Quintanilla to load the bases.
Brown then drove home Satin and Buck with his 0-2 single to left-center.
"I took two aggressive hacks and fouled them straight back," Brown said. "And then I figured he was going to try to throw one up. He tried to, but he didn't get it high enough I guess."
That's exactly how Collmenter saw it.
"I just wanted to make pitches and get the first guy out. I did that," Collmenter said. "I left a changeup over the plate to [Satin]. Then 0-2, I had [Brown] right where I wanted him. If I make a better pitch, who knows? We probably win the game. I guess sometimes that happens, but it's frustrating when it happens in a situation like that."
Steve Gilbert is a reporter for MLB.com. Read his blog, Inside the D-backs, and follow him on Twitter @SteveGilbertMLB. This story was not subject to the approval of Major League Baseball or its clubs.