Fernandez's dazzling start hands Marlins series win
Fernandez's dazzling start hands Marlins series win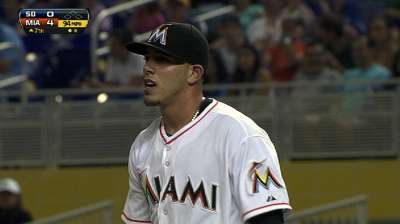 MIAMI -- The rookie outpitched the veteran in Monday's series finale in Miami.
Jose Fernandez threw eight scoreless innings as the Marlins beat the Padres, 4-0, before 14,669 fans at Marlins Park.
"The kid was great today," Marlins manager Mike Redmond said. "I think after about four innings, I was sitting there going, 'We just need to get a run for this kid.' He's got great stuff and his command was excellent. He was overpowering some of those guys."
The 20-year-old outdueled Padres starter Jason Marquis, holding San Diego to just two hits over eight innings, a career best. Fernandez retired 18 of the 19 batters he faced between the two hits he surrendered.
"After I threw my first five pitches in the bullpen, I felt great," Fernandez said. "It felt like my location was there, and I have been working on a lot of little things with my mechanics, and they felt great."
Fernandez tied a career high with 10 strikeouts and became the third pitcher age 20 or younger to fan at least 10, allow two hits or fewer and issue one walk or fewer in a game since 1921. The others were Dwight Gooden in 1984 and Kerry Wood in 1998. The rookie improved to 3-0 with a 1.47 ERA in eight home starts this season, the lowest among rookies.
"He's got a good arm, and he's a very talented 20-year-old pitcher," Padres manager Bud Black said. "He's a guy that, when you break him down, he does a lot of things right. And for 20, he's advanced, really is for a 20-year-old. He's got a good delivery, repeats it. He can spin a breaking ball. That's a very good breaking ball. One of the best breaking balls I've seen this year. A very good, tight breaking ball with great spin."
Marquis was nearly as good, holding the Marlins hitless before Adeiny Hechavarria singled to open the fifth. The right-hander got some help from his defense, especially Pedro Ciriaco, who made a pair of impressive defensive plays to help quell Miami threats in the fourth and fifth innings.
But Ciriaco committed a key throwing error that pulled Kyle Blanks off the bag at first and allowed Ed Lucas to reach base to open the sixth. The error would prove costly as Marcell Ozuna would single Lucas home after Giancarlo Stanton walked, giving the Marlins a 1-0 lead. The base hit extended Ozuna's hitting streak to 10 games and gave him some relief after Ciriaco snared his line drive two innings earlier.
"When you hit a ball hard, you think it is going to get through," Ozuna said. "But I was just thinking about putting the ball in play, and I was able to get just enough of it to drive in that run."
One day after belting a walk-off grand slam, Jeff Mathis delivered again with the bases loaded, smacking a two-out, three-run double that gave Fernandez and the Marlins a four-run advantage heading into the seventh.
"He's gotten some big hits for us, but even more than the hits and the seven RBIs in the last two days is the stability he brings to the pitching staff," Redmond said.
Fernandez agreed with his manager, saying Mathis' pitch-calling played a key role in his outing.
"The main thing is, Mathis behind the plate calling the game," Fernandez said. "I checked him one time, and it was the last guy I faced, because I wanted to throw one changeup in that game. I went with whatever he said. Before the game in the meeting I told him, 'I didn't watch any video. I trust you. I know you're going to do your stuff.' It felt great out there. He knows me really well and knows when I like to throw what pitches."
David Villavicencio is a contributor to MLB.com. This story was not subject to the approval of Major League Baseball or its clubs.