Crew can't recover after Gallardo struggles early
Crew can't recover after Gallardo struggles early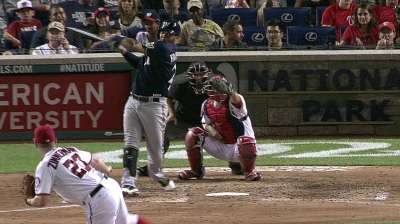 WASHINGTON -- After rain knocked out their starter and extra innings taxed their bullpen on Sunday, the Brewers so badly needed right-hander Yovani Gallardo to pitch deep into Monday's game that when manager Ron Roenicke was asked about available relief, he smiled and started rattling off position players.
Gallardo did not rise to the occasion -- though, to be fair, he had his hands full. The Nationals were coming off a 13-run romp over the Mets, and that was before budding star Bryce Harper announced his return from a month on the disabled list by connecting against Gallardo for a first-inning home run.
It never came to calling a position player to the mound, but Gallardo fell into an eight-run deficit without recording an out past the third inning, and an already burned-out bullpen was burned some more in a 10-5 loss at Nationals Park.
"Any time we score five runs, we should be able to get a win, no matter what," Gallardo said. "It just means, especially tonight, I didn't go out there and do what I was supposed to do, which is frustrating. I felt the ball was coming out the best it's been the whole year."
More cause for frustration: The Brewers have lost six straight games and, at the mathematical midpoint of their season, are 17 games under .500 for the first time since the final week of 2004, and 19 games behind the National League Central-leading Pirates. With the surging Marlins winning again on Monday night, Milwaukee is within two games of matching Miami for the league's poorest record.
A five-run Brewers flurry from the fifth inning through the seventh -- including back-to-back home runs by Rickie Weeks and Juan Francisco -- made it a ballgame, but Nationals starter Jordan Zimmermann won his 14th consecutive decision at home (and had a career-high three hits to boot) after his team held on to win for the fifth time in its last seven games.
Meanwhile, the Brewers' six-game skid matches their longest of the season.
"It's frustrating," Gallardo reiterated. "There's a lot of talent in this room, and it seems like we haven't been able to catch a break. Injuries and everything, it seems like it all falls down all at once. When things are going bad, they go bad. I know you've heard this before, but it's all a matter of staying positive."
There were positives in Gallardo's early going. His first-pitch fastball registered a snappy 93 mph, and he worked at 94 mph for much of the night. He allowed only Harper's homer through his first two innings but was burned by rallies in the third and fourth -- each begun with a Zimmermann hit. The Wisconsin native doubled down the left-field line to start a five-run, five-hit third inning in which the Nationals batted around and tallied four doubles, and singled leading off a two-run fourth that gave Washington an eight-run lead.
Right fielder Jayson Werth led the charge with five RBIs, including a two-run double in the third inning and a two-run single in the fourth on Gallardo's final pitch. In three innings plus three batters, Gallardo surrendered eight earned runs on nine hits and two walks, boosting his ERA to 4.78.
After three consecutive starts between June 10-20 without allowing an earned run, Gallardo has allowed 11 earned runs in seven innings over his last two outings.
Asked to explain this sudden drop in production, Roenicke said, "That's baseball. You don't expect to see it from Yovani because he's been so consistent in his career, but he's at a point right now where, for some reason, he's deep in counts almost every batter. You can't survive if you keep doing that."
Gallardo lamented his poor location. He had crisp stuff, but he elevated too many pitches.
"That's the first time I've seen him get hit like that," said Nats leadoff hitter Denard Span. "I faced him quite a bit in Interleague Play with Minnesota, and he always pitched pretty good against us. That was definitely uncharacteristic of him to pitch the way he did tonight."
Gallardo's slide is especially untimely for the Brewers, both because the club is counting on pitching to overcome its injury-induced offensive issues and because a slew of scouts have monitored Gallardo's recent starts in case the Brewers opt to sell at the non-waiver Trade Deadline. He has only one more guaranteed year on his contract.
The Brewers tried to hit their way out of Gallardo's early hole, with RBIs from Norichika Aoki and Jean Segura in the fifth inning and homers in the sixth from Weeks (his ninth of the season and sixth since June 1) and Francisco (his 10th of the season and fifth for the Brewers). After Zimmermann exited, the Brewers moved closer against reliever Craig Stammen in the seventh with Ramirez's RBI double to the left-field corner, making it 8-5.
"You get eight runs like that, and you're just pitching to the score," said Zimmermann, who logged his NL-leading 12th win. "They obviously knew I was going to throw the fastball, and I wasn't going to mess around. They were ready for it."
It gets no easier for the Brewers on Tuesday, when they are scheduled to face Stephen Strasburg.
"We'll figure it out tomorrow," said center fielder Carlos Gomez, who was 0-for-5 with three strikeouts. "We have to figure out how to put it together as a team -- offensively, defensively and the pitching. If we don't put it together like that, we're not going to win any games."
Adam McCalvy is a reporter for MLB.com. Read his blog, Brew Beat, and follow him on Twitter at @AdamMcCalvy. This story was not subject to the approval of Major League Baseball or its clubs.