Locke leading solid Bucs pitching staff
Locke leading solid Bucs pitching staff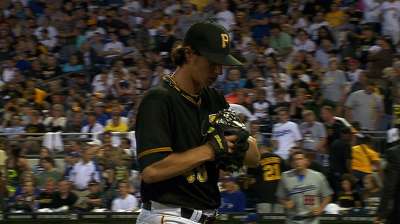 If you check the National League leaderboard for earned run average these days, you'll see Jeff Locke's name right up there at the top, along with New York Mets sensation Matt Harvey and Clayton Kershaw of the Los Angeles Dodgers -- who won the Cy Young Award two years ago.
So the Pirates' left-hander is in excellent company.
It wouldn't be accurate to say club officials didn't see success coming for Locke. After all, he was Pittsburgh's Minor League Pitcher of the Year Award winner in 2012 when he went 10-5 with a 2.48 ERA in 24 starts for Triple-A Indianapolis.
But still, they didn't expect him to be this good.
Through 16 starts, Locke was 7-1 with a 2.06 ERA and limited the opposition to a .199 batting average. He also allowed only 66 hits in 96 1/3 innings. The lone loss came in his very first outing of the season. In fact, after going 1-1 with a 5.17 ERA (9 ER, 15 2/3 IP) in his first three starts, he went 6-0 with a 1.45 ERA (13 ER, 80 2/3 IP) over his next 13.
His performance was even more impressive when you consider he had gone a combined 1-6 with a 5.82 ERA in 12 games -- 10 starts -- at the big league level prior to this season.
Locke has admitted he was "star struck" during his first few stints in the Majors.
"It's different now though," he said. "I've washed all that stuff out of my brain. I'm not going to say what's been going on this year has been easy -- because it's not easy at all -- but once you have success it's easier to repeat it, because you know what works.
"People can tell you, 'The big leagues are like this.' Or, 'You're really good, you just have to do this.' But until you actually do it, you don't know. My first two years up here, I never saw anything good happen. I never really had an outing where I felt like I accomplished something. I never had a chance to say, 'I can sleep well tonight. I did really well today.'
"Things are going good now, but I have to continue to make them good. You have to keep working and pushing the envelope. I want to get better every time I go out there."
The 25-year-old Locke has a thirst for knowledge that's off the charts. He gathers information from a variety of sources -- including Pirates pitching coach Ray Searage, veteran hurlers such as A.J. Burnett and Wandy Rodriguez, and catchers Russell Martin and Michael McKenry. Plus, he stays focused on the game and doesn't miss a pitch on the nights he's not on the mound.
"He's a sponge. He listens a lot and he watches," Searage said. "One of the things he's striving for is to let people know, 'I'm here, and I'm here to stay.' Every meeting we have, every conversation he has with A.J. and Wandy, and every bullpen session that he has, he takes something out of it and he absorbs it. He's taking a little bit here and a little bit there, and he's developing into Jeff Locke: the Major League pitcher."
Bob Walk, the former Pirates' pitcher who is now one of the team's color analysts, remembers seeing a Locke who looked out of place when he made his first few starts for Pittsburgh back in September 2011.
"Part of it may have been because he looked so darn young, but it seemed like he was overwhelmed by the big league experience," Walk said. "It just seemed like he wasn't ready for this yet."
But like everyone else, Walk sees a different Locke on the mound these days.
"It's like he went to the confidence store and made a nice purchase," Walk said. "He's a totally different guy. He's really become a good pitcher as far as commanding both sides of the plate and changing speeds, and it looks like he can throw his breaking ball for a strike pretty much whenever he wants.
"He's become a pitcher now, and he's become very confident in his abilities with the success he's had. Once things started to go well this year, it just snowballed for him."
Jim Lachimia is a contributor to MLB.com. This story was not subject to the approval of Major League Baseball or its clubs.