Offense powers Blue Jays to Canada Day win
Offense powers Blue Jays to Canada Day win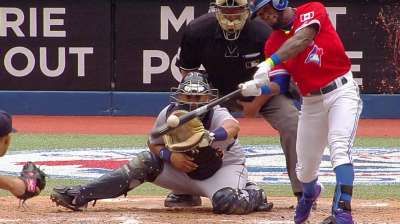 TORONTO -- The Blue Jays' offense woke up in a big way in its Canada Day matinee against the Tigers, and it was a pair of unlikely players who came through for the club.
Two slumping Blue Jays, Mark DeRosa and J.P. Arencibia, chipped in with a combined five RBIs as Toronto beat the Tigers, 8-3, in front of a sold-out crowd of 45,766 at Rogers Centre.
"It's the first ball I've hit in awhile," DeRosa said of his fifth home run of the season. "I was well aware of the fact that I was mired in a pretty big slump … but it was nice to a tack on three-run homer to give [starter R.A.] Dickey and the rest of the bullpen a nice breather."
After the Tigers closed the Toronto lead to 5-2 in the fourth, the Blue Jays stormed right back behind DeRosa.
In the bottom half of the inning, the Blue Jays had two men on with two outs when DeRosa walked to the plate. The 38-year-old drove an 0-1 fastball from reliever Luke Putkonen over the wall in right, putting the Blue Jays up 8-2.
The home run was DeRosa's first hit since June 18th against the Rockies, and it gave the Blue Jays (41-41) some big insurance runs.
"It's been frustrating over the past couple weeks, I've been flying open and striking out, and grounding out to short," DeRosa said. "I pride myself on being a quality at-bat … so it was nice to come through in a key spot."
With both Adam Lind and Edwin Encarnacion sidelined with minor ailments, it paved the way for fill-ins DeRosa (who played first) and Arencibia (who was the DH with Josh Thole catching Dickey). In fact, Arencibia wasn't even in the original lineup. He was inserted about half hour prior to the start of the game when Encarnacion was scratched.
Arencibia was the team's designated hitter for just the third time this season, and he came through with a clutch two-run single that proved to be the decisive runs in Monday's contest.
After scoring a run in the second on a Munenori Kawasaki single, and another on Jose Reyes' third home run of the season and second in as many days, Arencibia came to the plate in a clutch spot with the bases loaded.
A day after the Blue Jays failed to capitalize with three men on, Arencibia made sure that wouldn't be the case again. With one out in the third, the 27-year-old hit a single off Tigers starter Jose Alvarez through the left side of the infield, scoring two runs and putting Toronto ahead, 4-0.
"The team's beat up and the guys that played today came out and responded in a big way," Blue Jays manager John Gibbons said.
"We have to do our job, that's why we're here," DeRosa added. "You have to be ready at a moment's notice and be ready to perform. … Obviously you can't replace Eddy, or the way Lind-o has swung the bat. I'm aware of that. But there are guys here that are capable of doing the things that they have to do to help us win."
The eight runs were more than enough for Dickey, who put together a second straight quality outing.
Outside of the two-run fourth, that included a Prince Fielder home run into the Tigers' bullpen in right, the veteran hurler was nearly strong.
Dickey allowed two runs on six hits and a walk while striking out four in his seven innings, and evened his record to 8-8 on the year.
"It has taken me a little while to get there, but it's very consistent coming out of my hand," Dickey said of his knuckleball. "Every pitch that I throw is coming out of that window that's probably going to be a strike. It may end up being a ball, but the hitters have to make a commitment."
"It was knuckling," Fielder added. "I mean, it's hard for catchers to catch it, so imagine how hard it is for hitters to hit it."
Most of the Blue Jays' offense came off Alvarez, who only made it through three innings, allowing five runs (four earned) on six hits with three walks and four strikeouts.
In his four starts as a Major Leaguer, this one was easily his shortest.
"Alvarez was up with the ball, and he also had a tough time working to their left-handed hitters, and that should be to his strength," Tigers manager Jim Leyland said. "He had a tough time throwing strikes to the lefties, and he got the ball up a little bit, and of course he paid for it."
The win was the seventh consecutive victory at home for the Blue Jays and 11th of last past 13, and marks their longest streak at home since 2007.
It also sent home happy a patriotic crowd at Rogers Centre on Canada Day.
"Nice to come through today for the people of Canada," DeRosa said.
Evan Peaslee is an associate reporter for MLB.com. This story was not subject to the approval of Major League Baseball or its clubs.