Rookie Alvarez struggles, Tigers fall out of first place
Rookie Alvarez struggles, Tigers fall out of first place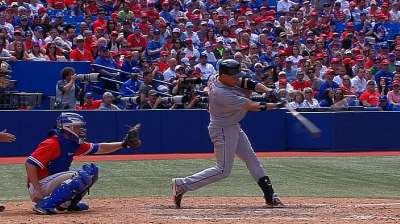 TORONTO -- The Tigers reached the midpoint of their season on Monday looking up at the division lead. Considering they were in third place halfway through last season, they'll take it. Considering where they stood a week ago, it's not the same.
They're not worried about the standings at this point, but they are about recent play behind it. While the Blue Jays celebrated Canada Day with an early fireworks display off Tigers pitching, R.A. Dickey sent his knuckleball largely fluttering past a Tigers' offense that continued sputtering.
The resulting 8-3 loss at Rogers Centre marked the Tigers' sixth defeat in their last seven games. Combined with an off-day for the Cleveland Indians, it also dropped Detroit to second place in the AL Central for the first time since May 23.
The Tigers now sit a half-game back of the lead with three more games in Toronto before a showdown with the Indians in Cleveland next weekend. Detroit also sits in search for a spark to ignite an offensive revival and recapture the kind of play that helped build a lead in the first place.
Like the starting pitching that had dominated until a week or two ago, the Tigers believe the offensive firepower is there. Getting it going on a consistent basis, not just a game here and there, is something they're struggling to figure out.
"I don't know. I'm not sure," Prince Fielder said. "If I knew, we would never be in a slump. Just play hard and see what happens."
A series-opening matinee with the only knuckleballer left in the Majors probably wasn't the place to find it. Once Detroit fell behind by five runs by the end of the third, the challenge against Dickey became that much harder.
"We tried not to swing too aggressive, but that's why they say it's not easy to hit that ball," said Omar Infante, who had four of Detroit's seven hits as he carried over his National League success to Canada. "He has a good knuckleball and he throws a hard knuckleball. That's why it's not easy."
The Tigers didn't lead the division by themselves in either of the past two seasons, but still went on to win. In neither of those seasons did Detroit hold as large of an early summer lead as this season, a five-game advantage two weeks ago and a four-game lead heading into last week before the aforementioned skid.
Manager Jim Leyland said last week he had the wrong combinations going. On Monday, before a sellout crowd that was roaring when the Jays took the lead in the second inning, everything seemed to go wrong, including lefty Jose Alvarez.
"Today," catcher Brayan Pena said, "was a rough day."
Alvarez (1-2), making his fourth and likely final start in place of the injured Anibal Sanchez, retired five of the first six Blue Jays he faced before a two-out single from Maicer Izturis began a second-inning rally. Alvarez never recovered.
Like his previous two starts, his second time through the order was the time for opponents to do damage. Unlike those starts, Alvarez didn't survive long enough to get a third trip through the lineup.
It was an outing out of character for Alvarez from that first hit on. Three of the next seven Blue Jays drew walks against him, all three getting 3-0 counts. He had just two 3-0 counts in his previous three starts combined. Two of those walks scored, and the other could have if Josh Thole hadn't run through third base coach Luis Rivera's stop sign for Andy Dirks to throw him out at the plate. Dirks' play got Alvarez out of the second inning with a lone run allowed and left Jose Reyes on deck.
Alvarez's 2-1 offspeed pitch to Reyes went for a leadoff homer and a 2-0 Jays lead. A double and two walks loaded the bases from there, and J.P. Arencibia hit a two-run single. In between, a steal of third from Rajai Davis while Pena was throwing the ball back to Alvarez typified the way things were going.
Alvarez (1-2) gave up five runs, four earned, on six hits with three walks and four strikeouts. Six of the 10 balls put in play by Jays hitters went for base hits.
"In that inning, nothing worked for us and they took advantage of our mistakes," Pena said. "I blame myself, too, in there. It was one of those days that you just need to forget and learn from the game and try to move on and regroup."
With a 5-0 deficit, the Tigers' best chance at a comeback was going to be hanging knuckleballs from Dickey, who has been feast or famine for much of the past month. Fielder got one and drove it like a batting practice swing for a fourth-inning solo homer, his 14th home run of the season. Infante got another and doubled in Martinez three batters later to make it a 5-2 game.
That was about it. Once Mark DeRosa added a three-run homer off Luke Putkonen in the bottom of the inning, Putkonen could do little more than save the bullpen, which he did by pitching four innings. Dickey (8-8), meanwhile, lasted seven innings on six hits with four strikeouts.
"It's coming back, that's the velocity I could count on last year," Dickey said. "So you can get away with a lot more mistakes when the velocity is 78-81."
Infante's double was the Tigers' lone hit in seven at-bats with runners in scoring position. They're now 3-for-25 with runners in scoring position over their last three games. By contrast, they have four home runs in that span, all solo shots, including Infante's ninth-inning drive. his sixth of the year.
Get a runner or two on for those home runs, and they likely have an extra win in this stretch. But it's a symptom of more than just three games. At the season's midway point, it's a funk.
"We're going to snap out this," Pena said. "Everybody goes through that. Sometimes you have to go through a little bit and then bounce back. We know what we can do."
Jason Beck is a reporter for MLB.com. Read Beck's Blog and follow him on Twitter @beckjason. This story was not subject to the approval of Major League Baseball or its clubs.