Burton's rough stretch continues as game unravels
Burton's rough stretch continues as game unravels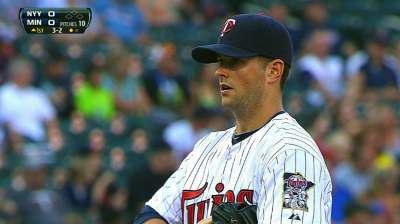 MINNEAPOLIS -- Jared Burton was just about automatic as a setup reliever for the Twins in 2012.
The right-hander posted a 2.18 ERA in 62 innings and was rewarded after the season with a two-year contract with an option to remain the club's top setup man moving forward.
But after a strong start to the year, Burton has struggled in recent weeks, and it continued on Monday night against the Yankees. Burton couldn't hold a one-run lead in the eighth inning and fellow reliever Brian Duensing also struggled in the ninth to hand the Twins a 10-4 loss to the Yankees at Target Field.
With three runs allowed in the eighth, Burton has an 11.00 ERA over his last 10 outings dating back to June 6. But Twins manager Ron Gardenhire said he's sticking with Burton given his track record.
"We got it to the right guys at the end but Burton just had a rough time," Gardenhire said. "He's had a couple scuffles here and we definitely need him. He's been very good for us and we desperately need him to get going again here. He's a big part of our bullpen as one of the last two guys."
Burton came in with the Twins clinging to a 4-3 lead with Robinson Cano set to lead off the inning after he had already homered twice earlier in the game. Cano came through again with a double to right, which led to the decision to bring in pinch-hitter Ichiro Suzuki to drop down a sacrifice bunt.
Burton couldn't handle the bunt down the third-base line and his throw brought Justin Morneau off the bag at first base. Burton then tried to pick off Ichiro at first base but the throw went past Morneau to score Cano and allowed Ichiro to reach third. Burton was able to retire Travis Hafner for the first out but then gave up the go-ahead RBI single to Zoilo Almonte with the infield playing in.
"He gives up the hit to Cano and after that he just couldn't get it done," Gardenhire said. "He threw over to first base basically two times on his own and launched it and didn't field the bunt. So I guess he got flabbergasted is the word. And it went from there."
Duensing replaced Burton and allowed Almonte to score on an RBI groundout from Chris Stewart. All three runs were charged to Burton, who has a 4.39 ERA on the year. Duensing remained in the game and allowed the Yankees to score four more in the ninth inning to put the game out of reach.
It spoiled a strong start from Scott Diamond, who snapped a streak of four straight shaky outings, as he turned in his first quality start since June 2. The left-hander gave up three runs (two earned) on seven hits over 6 2/3 innings while tying a season high with five strikeouts.
"I'm happy with the improvement personally, but we lost," Diamond said. "It just kind of unraveled a little bit. So I'm happy, but in the long run it doesn't really matter."
He quickly fell behind, giving up a solo shot to Cano in the first inning, but the Twins scored three times in the bottom of the first against veteran lefty Andy Pettitte.
Ryan Doumit brought home two runs with a double to center to give the Twins the lead after Clete Thomas walked and Brian Dozier doubled. After a blown call at first base with Morneau beating out a throw from third baseman David Adams but being ruled out, Doumit eventually scored on an error from Pettitte, who couldn't handle a comebacker from Oswaldo Arcia.
The Yankees tied it up in the third on a two-run blast from Cano to left field. It marked the third multihomer game of the year for Cano and came after Jayson Nix reached on an error from third baseman Jamey Carroll.
"He's aggressive," Diamond said. "In that first at-bat I was just trying to keep the ball down and I threw it right in his wheelhouse. The second time he was just real aggressive and it was not a good pitch by me. So he's a tough out and really spoiled it for us tonight."
The Twins took the lead in the sixth on a solo shot from Chris Parmelee that chased Pettitte from the game after five-plus innings. It was the eighth homer of the year for Parmelee, who had last homered on June 22.
"Obviously disappointed with the way I threw, the results on my end, but a great game for the team," said Pettitte, who was knocked out after Parmelee's homer but overtook Hall of Famer Whitey Ford to become the Yankees' all-time strikeout leader. "We needed a win. The guys swung the bats well, the bullpen was awesome. Other than the starter that was out there, it was a big time positive tonight."
Minnesota's offense was held quiet over the last three innings and never had a chance in the ninth against Yankees closer Mariano Rivera after Duensing gave up four runs in the top of the inning.
"Duensing couldn't get it done," Gardenhire said. "They just kept rolling them through with the bases loaded. It was an ugly end to a good game up to that point."
Rhett Bollinger is a reporter for MLB.com. Read his blog, Bollinger Beat, and follow him on Twitter @RhettBollinger. This story was not subject to the approval of Major League Baseball or its clubs.