Kendrick has mild concussion after hit by pitch
Kendrick has mild concussion after hit by pitch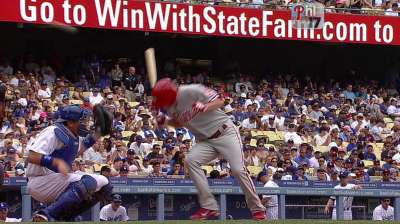 LOS ANGELES -- Phillies right-hander Kyle Kendrick suffered a mild concussion Sunday when Dodgers pitcher Stephen Fife hit him in the head with a pitch in the sixth inning.
Kendrick will be evaluated Monday in Pittsburgh.
"If it's good tomorrow, I won't miss a start," Kendrick said after allowing four runs on 10 hits in the Phillies' 6-1 loss at Dodger Stadium.
There is a seven-day disabled list for players with concussions, so Kendrick could be placed on that. He said he started to get a headache while he was on the mound in the bottom of the sixth.
"I feel OK," he said. "I have a headache. I feel like I got hit in the head. The good thing is it's mild."
Todd Zolecki is a reporter for MLB.com. This story was not subject to the approval of Major League Baseball or its clubs.