Westbrook unable to corral A's in series finale
Westbrook unable to corral A's in series finale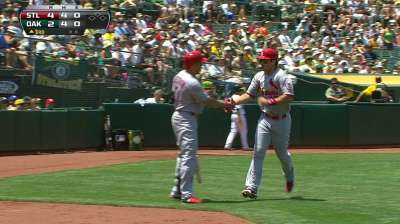 OAKLAND -- The Cardinals hit the halfway mark of the season on Sunday in forgettable fashion. A club that has made its mark with strong starting pitching and timely hitting lacked both, allowing the A's to steal a come-from-behind 7-5 victory and take the three-game series in front of 20,673 at O.co Coliseum.
With the loss, the Cardinals drop their fifth series of the season -- and second against an American League opponent. The Cardinals have won just twice over their past eight games, losing 5 1/2 games of ground against a surging Pirates club during that stretch.
"There was going to be a point that this moment was going to come," Carlos Beltran said after his three-hit game. "Just right now, we have to deal with it -- continue to come to the ballpark, find a way to turn it back, and it's going to come back. We have a good team, good pitching, a good lineup. It's all about finding the way to put it together again."
The Cardinals' offense staked starter Jake Westbrook to a three-run lead in the first and then pushed it back to three in the third once the A's had cut into the lead. Westbrook gave it back again.
Making his fourth start since coming off the disabled list, Westbrook struggled to command his sinker. He elevated it routinely, which resulted in several hard-hit balls and only three groundouts for a pitcher who has made a career out of collecting them.
"I couldn't get the ball down," Westbrook said. "I just didn't have it. There's really no other explanation than it just wasn't there. It was just a bad game and that's what I'm going to chalk it up to. [I'm going to] work on some things and try to be a little more consistent and get down in the zone a little more."
Three consecutive Oakland hits led to a pair of first-inning runs off Westbrook. He then faced eight batters in the third, holding onto a one-run lead ever so tenuously by getting nine-hole hitter Eric Sogard to fly out with the bases full.
Manager Mike Matheny stuck with his laboring right-hander and the A's capitalized in the fourth. Jed Lowrie's two-run homer gave Oakland the lead. Josh Donaldson's solo shot off Trevor Rosenthal in the seventh padded it.
Westbrook's ERA swelled from 2.21 to 2.95 as he was charged with six runs in four innings, his shortest start of the season.
"Today," Matheny said of his starter, "was a fight."
It's been a fight more often than not as of late for the Cardinals' rotation. Though they still lead the league in wins (43) and ERA (3.18), the starters have not been nearly as dominant over the last month as they were during the first two. That's a large reason why the Cardinals followed a 20-7 May with a 14-14 record in June.
The Cardinals' starters lost more games in June (12) than they did in the first two months combined (10). The group's ERA sat at 4.40 over 28 games during the month -- 5.40 if you take Adam Wainwright's strong month out of the equation. Wainwright threw five of the 11 quality starts in June.
"It's just maybe a stretch where we're just not pitching very well collectively," Westbrook said. "It's a matter of getting back to being more consistent and making pitches in big spots to get out of jams and hold them down."
The subpar starting pitching is why a club that averaged nearly 5 1/2 runs per game and hit .286 as a unit in June finished the month at .500.
"We set a very high bar early on and I hope these guys believe in the bar that they set," Matheny said. "That's what they should shoot for."
The Cardinals' offense was explosive early on Sunday -- homers by Beltran, Allen Craig and Matt Carpenter helped push across five runs in the first three innings -- but quieted as the game progressed. That had a lot to do with Oakland's defense.
In the fourth, Donaldson flipped over the tarp in foul territory to make an inning-ending catch to leave two runners stranded. Three innings later, Carpenter led off with a double only to watch Yadier Molina and Craig be robbed of hits. Second baseman Sogard made a tremendous over-the-shoulder catch to retire Molina. After Beltran popped out, Donaldson made a diving stop on Craig's grounder.
The Cardinals finished 1-for-11 with runners in scoring position.
"We knew going into it that they had a good club over there and it was going to be a battle," Carpenter said. "We said coming into this that it's the best team you've never heard of."
Despite the recent lull, the Cardinals still enter the second half as one of only two National League teams with 49 or more wins. The other -- Pittsburgh -- stands between them and the division lead.
But while the Cards trail the Pirates in the standings, they boast arguably the league's best first-half credentials. Through the first 81 games, the Cardinals rank first in several offensive categories, including runs scored, batting average and on-base percentage. They trail only the Rockies in total hits and OPS.
Despite an unstable bullpen in April and shaky rotation in June, the team still ranks among the top three in team ERA. And the defense -- even after committing two errors on Sunday -- has the league's best fielding percentage.
"I think we've had a pretty darn successful first half," Craig said. "Obviously, we'd like to be in first place but we've won a lot of games, and I feel like we've been pretty balanced with the offense, the defense and the pitching we've had. With this team, there is always room for improvement and we're going to shoot to be the best team out there. We have 81 games left to prove that."
Jenifer Langosch is a reporter for MLB.com. Read her blog, By Gosh, It's Langosch, and follow her on Twitter @LangoschMLB. This story was not subject to the approval of Major League Baseball or its clubs.