A's bats pick up slack for series win over Cards
A's bats pick up slack for series win over Cards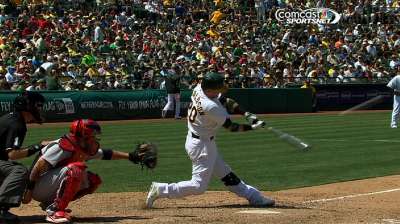 OAKLAND -- Sunday's 7-5 win over the Cardinals wasn't the prettiest showing by the A's in the month of the June, but it did secure a second consecutive series win over one of the best teams in baseball.
Starter Tommy Milone allowed a career-high-tying three home runs and saw his ERA inflate to 5.96 over his past four starts. Josh Donaldson lost a popup in the sun and Jed Lowrie muffed a ground ball on the following play, which led to St. Louis taking a 5-2 lead in the third inning. Coco Crisp exited the game in the fourth with back spasms and is day to day.
But it was the offense that took the forefront in Sunday's series finale against the Cardinals at O.co Coliseum. The A's pulled out the win despite a subpar showing from Milone, who was awarded the win despite allowing five runs (four earned) on seven hits in six innings.
Oakland's left-hander was shaky from the beginning, allowing a leadoff double before back-to-back home runs by Carlos Beltran and Allen Craig. He then allowed an additional home run two innings later, though he was able to find his composure and work through the sixth and save an A's bullpen that entered in the fourth inning Saturday in relief of an injured Jarrod Parker.
"There are performances that are easy for you and there are others that are not as easy," A's manager Bob Melvin said, "and against a team like that, to give us six innings, you wouldn't have forecasted that after the first inning."
Oakland's bats kept pace in light of Milone's woes. The A's scored two runs of their own in the first inning off three consecutive hits from Seth Smith, Lowrie and Yoenis Cespedes and cut the deficit again in the third on a two-run double from Brandon Moss.
"It makes it a lot easier when we come back and score some runs," Milone said. "It kind of feels like it's a fresh new inning and none of that happened. Obviously it did, and I have to go in and check myself and keep us in the game.
"The way the game was going, you could tell each team was scoring runs. I kind of had to tell myself that I got to keep us in this game because we're going to score some more runs. It just kind of had that feel to it."
Lowrie made up for his error -- resulting in the first unearned run against the A's pitching staff in 19 games -- with a go-ahead two-run homer in the fourth, and Donaldson contributed two gems of his own. Oakland's third baseman toppled over the tarp in foul ground while blinded by the sun to secure a popup to end the fourth and lunged to his right on a sharp ground ball in the seventh to throw out Craig at first base and save a crucial run.
While perhaps not as theatrical as the play in foul territory, Melvin gushed over Donaldson's play in the seventh.
"That's a run and now it's a tie game," Melvin said.
Donaldson also belted a two-out home run in the seventh to provide an insurance run that extended the A's lead to 7-5 and bolstered his already compelling All-Star resume, while the A's bullpen threw three shutout innings, including Grant Balfour's 37th consecutive save dating back to last season.
With its 7-5 win over St. Louis at the Coliseum, Oakland (48-35) clinched its 16th win of the month and best record after 83 games since 1992. Taking four of five games from the Reds and Cardinals in consecutive series improved the A's to 9-3 in Interleague Play.
"We said coming into this that it's the best team you've never heard of," Cardinals second baseman Matt Carpenter said. "That was definitely the case. They have good players that don't get a lot of credit."
Donaldson matched Carpenter's admiration: "If they're not the best, they're right up there. If peoples' eyes weren't open already, I feel like it's time for them to start looking at us."
So what if Milone couldn't replicate the magic displayed of late by A's starters, who entered the game 20-6 with a 2.94 ERA and .223 opponents batting average over the past 40 games. Oakland's pitching has bailed the team out of a bounty of offensively inefficient performances this season. It's only fair that the bats return the favor.
Jeff Kirshman is an associate reporter for MLB.com. This story was not subject to the approval of Major League Baseball or its clubs.