Cubs knock six doubles to clinch road series
Cubs knock six doubles to clinch road series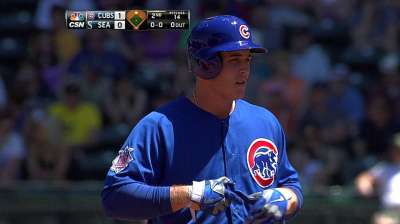 SEATTLE -- Before Sunday's game, Cubs manager Dale Sveum joked that he may use outfielder Brian Bogusevic as a reliever because the bullpen was a little taxed.
Sveum didn't need to resort to that, and Bogusevic chipped in with one of six doubles in the game as the Cubs held on for a 7-6 Interleague victory over the Mariners. Anthony Rizzo drove in two runs to back Edwin Jackson as Chicago won its second straight road series.
Jackson gave the Cubs the innings they needed after back-to-back extra inning games. Sveum had a longer list of pitchers unavailable than ones who were on call.
"If we could get back to Little League days [and play seven innings], we'd be OK," Sveum said.
After blowing his first save of the season on Saturday, Kevin Gregg converted his 13th save to seal the win with a 1-2-3 ninth.
"He ended up having his best velocity of the year today," Sveum said of the right-hander.
"I thought my fastball was coming out all right [Saturday], and it was even better today," Gregg said. "I got back into a groove today using my fastball more than I have in the last couple outings."
Was it important to get in another game quickly after the blown save Saturday?
"I want to pitch every day," Gregg said. "Coming off a blown save yesterday, I want to get right back out there. I don't want to sit at all."
Jackson struck out six and scattered seven hits, including Jason Bay's solo homer, over six-plus innings. The right-hander's best outing of the season had been his shortest and didn't count. He faced eight batters on May 28 against the White Sox, struck out three, and gave up one hit before rain washed out the game.
"It's been a very inconsistent first half," Sveum said of Jackson. "The fastball command, the velocity are what bothers me as much as anything. Some days it comes out 97-[mph], and other days it comes out 90, 92. We need that guy to let it go."
Jackson did hit 97-mph on the radar gun on Sunday.
"For me, [velocity] is [velocity]," Jackson said. "I've had games when I've come out and hit 96, 97, and gotten hit. It's the best of both worlds. If you can come out and have the velo and have the location with it, it's great. The days you can come out and let it go, it's definitely not a problem to have. You can come out and attack hitters."
Jackson did what the Cubs needed, which was keep the Mariners in check and go six innings. The right-hander, who signed a four-year, $52 million deal this offseason, had high expectations in his first year with the Cubs. At the halfway point, he's 4-10 with a 5.75 ERA.
"It hasn't been quite how I planned," Jackson said, "but it's a marathon, not a race. We still have a lot of baseball left, and I still feel confident in myself that I can go out and give our team a chance to win. I just have to keep throwing. You're going to have your ups and downs. You look at every great pitcher, and they've had their ups and downs. The ones who come back from it and continue to have success are the ones who are still playing."
He got plenty of offense in the beginning. Alfonso Soriano doubled to open the second against Jeremy Bonderman, and scored on Rizzo's double. One out later, Rizzo tallied on Bogusevic's double, and he scored on Darwin Barney's double. The Cubs hit four doubles in one inning for the first time since Aug. 17, 2008, when they did so at Florida.
The Mariners tallied in the third on a run-scoring groundout by Nick Franklin, but Barney doubled to open the fourth and scored on third baseman Kyle Seager's error. One out later, Starlin Castro hit an RBI single to chase Bonderman. Soriano added another RBI double and scored on Rizzo's single for a 7-1 lead.
Chicago now leads the National League with 166 doubles.
"Maybe we're lucky," Barney said. "I think we would trade some of those doubles for more hits with runners in scoring position. Doubles are good, runs are better."
The Mariners proved that true as they closed the gap. Raul Ibanez hit a solo home run and Seager hit a two-run blast in the eighth off Shawn Camp to close to 7-6.
"At this level, you can't assume [it's over]," Barney said.
Rule 5 pick Hector Rondon finished the eighth, and Gregg took over in the ninth. This is the first time the Cubs have won back-to-back series on a road trip since last September, when they did so against the Pirates and Astros.
The Mariners made it tough on themselves.
"This team, for whatever reason, we do the hard part well," Ibanez said. "We score late in the game, and that's the hard part. The hard part is hitting against setup [pitchers], closers late in the game, and I think we do that part well. We're good at coming back. I think if, offensively, we can hit collectively in the first six innings the way we do in the last three, we'll be a really good team."
The Cubs head into Monday's off-day feeling good.
"An ugly win is better than a pretty loss any day," Jackson said.
Carrie Muskat is a reporter for MLB.com. She writes a blog, Muskat Ramblings, and you can follow her on Twitter @CarrieMuskat. This story was not subject to the approval of Major League Baseball or its clubs.