Reds end rough road trip with loss in Texas
Reds end rough road trip with loss in Texas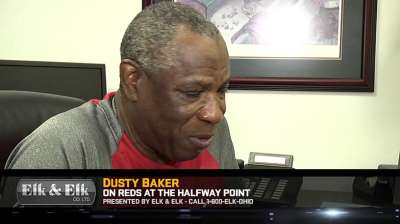 ARLINGTON -- A road trip that was only eight games, but lasted 10 days over three cities, felt like an eternity to the Reds. As much could be said about the club's entire month of June.
Both the trip and the month are now over, but not before one final disappointment. A 3-2 loss to the Rangers on Sunday completed a 2-6 road trip through Arizona, Oakland and Texas and gave the Reds losses in seven of their last nine games.
"We definitely expected better," right fielder Jay Bruce said. "Now we get to go home and start a new month and start a new homestand, and play better."
When things are going wrong, it seems like a team can get creative in the ways it loses. On Sunday, the Rangers' first two runs scored on one squeeze bunt by Elvis Andrus in the fifth inning.
"I've never seen two runs score on a squeeze. That was a weird play," Reds manager Dusty Baker said.
It was a scoreless tie when the Rangers' fifth started with Engel Beltre's bunt single toward second base against starter Mat Latos. Leonys Martin followed with a double to right-center field that put runners on second and third with no outs.
With one out, Andrus dropped a suicide squeeze bunt toward the mound. As Beltre bolted for the plate, Latos made a barehanded grab and flip to the plate. The ball hit Beltre in the face and got away as he collided with Devin Mesoraco and scored. That allowed Martin to also score.
"It was just a reaction," Latos said. "It was bunted pretty hard, and I thought I could make a play on it. I just kind of made a bad throw. I put Mesoraco in a pretty crappy situation to get hit like that. Looking back at it, I should have just held on to the ball."
"I was just trying to look for space to slide in," Beltre said. "I couldn't get that space, so I tried to get on him. I think it was knee-to-knee on the play, because I didn't have enough space."
The play was ruled a sacrifice bunt and an RBI, with an error charged to Latos that allowed the second run to score. Baker wasn't surprised that his counterpart, Rangers skipper Ron Washington, ordered the bunt.
"With the meat of the order coming up, our reports say that's when he squeezes with one out," Baker said. "I didn't mind it in that situation. It was the second run that scored. Sometimes that squeeze keeps you in the game. You're trading the out for the one run. It showed me they thought that one run was going to hold up, and I didn't. They got two runs on it."
It was still a strong afternoon of pitching for Latos, who worked 6 2/3 innings and gave up three runs (two earned) on eight hits with two walks and nine strikeouts.
Rangers starter Yu Darvish gave up four hits and four walks over 6 2/3 scoreless innings while striking out eight.
"He wasn't really as sharp as he can be, but he held us at bay," Baker said of Darvish.
In the sixth, Brandon Phillips drew a four-pitch walk with one out, and Bruce followed with a single to right field. The budding rally was snuffed out quickly, however, as Xavier Paul bounced into a 3-6-3 double play to end the inning.
"It really hurt that we didn't get anything," Baker said. "We just have to get some hits in that situation."
Texas added a third run against Latos in its half of seventh, an inning that started with Martin's leadoff single and an Andrus one-out single -- both to center field. Baker visited the mound as Latos reached the 100-pitch mark, but let him continue.
"That last inning, I felt fine," Latos said. "Even when Dusty came out there, I told him I was good. I felt like I was still in a rhythm."
Nelson Cruz lifted a soft line drive just over Phillips' glove and into right field for the RBI single that proved to be the difference in the game.
The Reds rallied in the top of the eighth against three different Rangers relievers. Tanner Scheppers walked Zack Cozart and gave up back-to-back singles to Joey Votto and Phillips to load the bases with no outs.
Lefty reliever Neal Cotts took over and got his first batter, Bruce, to hit a sacrifice fly to right-center field and score Cozart. Pinch-hitter Chris Heisey got another run in with a sacrifice fly to right field. Right-hander Jason Frasor replaced Cotts and got Todd Frazier to fly out and leave the Reds short by a run.
"We couldn't get a timely hit when we needed it. It's the bottom line," Bruce said. "We just need to execute better. That's really all there is to say about it."
A 12-15 record for June gave Cincinnati its first sub-.500 month since September 2011. The club knew this road trip against all first or second-place teams would be a challenge. But it was still difficult to endure.
"I'm just glad it's over," Latos said. "It's pretty crappy flying East Coast to West Coast and getting acclimated to the time difference. It takes a toll on you. It's one of those road trips that we've just got to hang with 'em. When we get back home, we've got to come out strong. We're still in [the] division [race]. We've got a really good team. ... We didn't play to our capability."
Mark Sheldon is a reporter for MLB.com. Read his blog, Mark My Word, and follow him on Twitter @m_sheldon. This story was not subject to the approval of Major League Baseball or its clubs.