Howard's skid to 0-for-20 after returning to lineup
Howard's skid to 0-for-20 after returning to lineup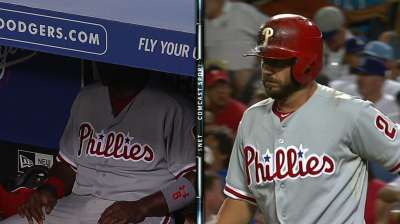 LOS ANGELES - Ryan Howard returned to the lineup for Sunday's series finale against the Dodgers after Phillies manager Charlie Manuel benched him two games.
Manuel hoped two games off would help Howard clear his mind and get back on track, but he went 0-for-4 with three strikeouts in Sunday's 6-1 loss to the Dodgers. Howard is hitless in his last 20 at-bats. He has not gone longer than 23 at-bats without a hit in his career.
"I definitely wanted to put him back on the right-hander today and see what he could do," Manuel said, referring to the Dodgers' Stephen Fife. "We've got to keep working with him and everybody because we need him to hit. We need to get him right. Believe me, we're going to keep trying."
Manuel picked Friday and Saturday to rest Howard because the Phillies faced a pair of left-handers. Howard's .599 OPS against left-handers from 2011-13 is 221st out of 232 hitters with 250 plate appearances against lefties in that span.
Todd Zolecki is a reporter for MLB.com. This story was not subject to the approval of Major League Baseball or its clubs.