Bats fall quiet as Tigers drop finale to Rays
Bats fall quiet as Tigers drop finale to Rays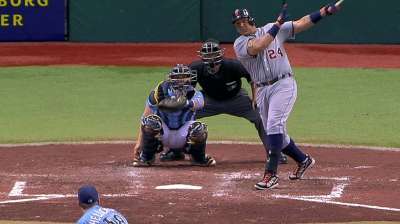 ST. PETERSBURG -- Jim Leyland admitted he doesn't have the answer.
"Since the beginning of the year, people have talked about what a terrific lineup we've got -- and it is a terrific lineup," Leyland said Sunday after the Tigers lost their second game in a row and their fifth of their last six, falling 3-1 to the Tampa Bay Rays to drop into a virtual tie with the Indians for first place in the American League Central.
It marks the first time since May 23 that the Tigers have not been in sole possession of first place.
And in those last five losses, the Tigers, the top hitting team in the AL with a .280 average, have been outscored, 31-17.
"I'm not really overly concerned about it, but we do have to put some runs on the board," Leyland said. "We just haven't been producing any runs. We're just not swinging the bats good in big situations. Runs have been a problem for us and they were again today."
The Tigers rank third in the AL in runs scored with 396. But as Leyland pointed out earlier this weekend, their scoring has been inconsistent.
"To say we're struggling, that's obvious," he said. "To say, what's the solution? That's not so obvious.
"I could get goofy and play some silly games with the lineup. Some guys have done that. But I don't believe in that."
Rick Porcello, who has now lost three in a row, posting an 8.82 ERA over that stretch, worked six innings, allowing three runs on eight hits as the Tigers continue to try to get him back on track.
"I've made some adjustments but I still need to keep making some more to avoid innings like the fourth," Porcello said. "Six innings, three runs, kept us in the game. I'll take it.
"You don't want to overthink the process," Leyland explained. "Most Major League pitchers don't need a major overhaul between starts or during the week. It's hard to do on the Major League level."
The Rays took a 1-0 lead in the second inning when James Loney doubled and scored on Jose Lobaton's single. They added two more runs in the fourth, but it could have been a lot worse.
Consecutive singles by Wil Myers, Luke Scott, Kelly Johnson and Lobaton produced one run and a bases-loaded walk to Yunel Escobar pushed another across the plate.
"I threw some pitches that inning that weren't competitive," Porcello said. "Obviously, the fourth inning was a little rocky. I was getting ahead of myself a little bit."
But first baseman Prince Fielder turned former Tiger Matt Joyce's line drive into an inning-ending double play.
"I got lucky," Porcello said.
Miguel Cabrera led off the fourth with his 25th home run of the season, driving a ball 424 feet into the Tropicana Field tank in right-center field, tying the score at 1. That was only the second homer ever hit into the tank. The other was by Luis Gonzalez on June 24, 2007.
Trailing by two, the Tigers loaded the bases with nobody out against Jeremy Hellickson in the seventh on a double by Andy Dirks, a single by Omar Infante and a walk to pinch hitter Jhonny Peralta.
But Jake McGee came on in relief, and Bryan Holaday flied to right, Austin Jackson forced Dirks at home and Torii Hunter flied out.
"We didn't even need a hit there," Leyland said. "If we had just gotten a sacrifice fly we would have been in good shape."
Those fans waiting to see if the Tigers would retaliate for Fernando Rodney's high-and-tight pitch to Cabrera in the 10th inning on Saturday night didn't have to wait long.
After retiring the first two Rays he faced in the bottom of the first, Porcello hit Ben Zobrist on the upper right arm. Plate umpire Vic Carapazza immediately warned both benches and Zobrist glared at Porcello as he walked slowly to first base.
Leyland, who was outspoken after the incident Saturday night, dismissed Porcello's plunking of Zobrist.
"Why is everybody making a big deal out of that?" the Tigers' manager said. "That's part of baseball. Guys get hit in baseball games. Big deal. That's nothing new."
Porcello said he was "just trying to throw a fastball inside and it got away from me" when he hit Zobrist.
Porcello also said the umpire's warning didn't bother him.
"The only way I'm going to get those guys out is by pitching inside," he said.
Jim Hawkins is a contributor to MLB.com. This story was not subject to the approval of Major League Baseball or its clubs.