Epstein says chances of Cubs' trade action are '50/50'
Epstein says chances of Cubs' trade action are '50/50'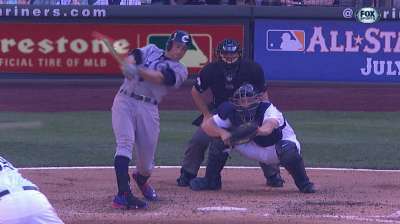 SEATTLE -- Asked if he expected the Cubs to make a deal before the All-Star break, Theo Epstein, president of baseball operations, said Sunday the chances are "50/50."
"Judging by the amount of calls that are going on, I would say the number of pieces we potentially have available and the opportunities that might present themselves for us to get better, yeah, I'd say 50/50," Epstein said.
Matt Garza and Scott Feldman are drawing interest from teams looking for another starter, while clubs have also inquired about closer Kevin Gregg, who blew his first save in 13 opportunities on Saturday.
The interest -- and rumors -- will continue up until the July 31 Trade Deadline.
There also have been reports that teams are inquiring about Nate Schierholtz, but Epstein seems to be hard-pressed to part with the outfielder, who has moved into the No. 3 spot in the lineup.
"He's exceeded our expectations with the overall quality at-bats," Epstein said of Schierholtz. "To hit him in the three-hole, he does a nice job. He can handle different kinds of pitching, give you a tough at-bat. He's a threat to go deep if they make a mistake, runs the bases well. He's been really reliable defensively. He's done a nice job."
Last year, the Cubs were active at the Trade Deadline, dealing pitchers Ryan Dempster and Paul Maholm, plus catcher Geovany Soto, Reed Johnson and Jeff Baker.
Carrie Muskat is a reporter for MLB.com. She writes a blog, Muskat Ramblings, and you can follow her on Twitter @CarrieMuskat. This story was not subject to the approval of Major League Baseball or its clubs.