Masterson's shutout lifts Tribe to first-place tie
Masterson's shutout lifts Tribe to first-place tie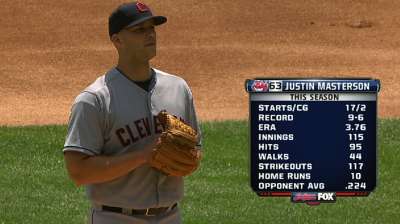 CHICAGO -- Indians right-hander Justin Masterson closed a four-game series against the White Sox in a completely different fashion than the way the weekend started. The Tribe began the set with two high-scoring contests in Friday's lengthy doubleheader, but Masterson went the distance on Sunday, facing three batters over the minimum in a six-hit shutout at U.S. Cellular Field.
Cleveland's 4-0 win coupled with the Tigers' 3-1 loss to the Rays in St. Petersburg pulled the Indians into a first-place tie with Detroit in the American League Central.
Manager Terry Francona decided to sit hot-hitting sluggers Jason Kipnis and Nick Swisher, but the Indians still produced enough runs against White Sox ace Chris Sale to complete their first four-game sweep in Chicago since 1945.
"When we can win a game like that today, where we rest a couple of guys and stay away from some guys in the bullpen, that's a team win," Francona said. "That was huge. You watch Sale pitch -- you can see it from the dugout, the batter's box or where you're sitting. His stuff was filthy."
But it wasn't Sale's stuff that stole the show. Masterson, who struck out eight and walked one, pitched to contact all day, escaping tough spots with runners on base by inducing double plays in the second, sixth, seventh and eighth innings and benefiting from a sneaky pickoff by Indians catcher Yan Gomes to nab Alejandro De Aza at first.
"I know when the game is over, people might forget about that play," Francona said. "But De Aza is a guy on the bases who can create something. Gomer picking him up settled that inning down. He called a good game, he ran the game and then he contributed with his bat."
The Indians leaned on their bullpen through the first three games of the series. Rookie starter Trevor Bauer recorded just two outs in Friday's first game, forcing the bullpen to throw 127 pitches. Francona then used three more relievers in the nightcap for a total of eight bullpen arms on the day. Ubaldo Jimenez didn't offer much help by throwing 112 pitches over five innings on Saturday and leaving the bullpen to finish the job.
That's why Masterson's effort was so crucial. He saved a depleted bullpen from having to work and delivered the Indians to Monday's off-day, when their relievers can recuperate.
"I think that's the challenge for us as starters -- try to go out there and get as much as we can and go as far as we can," Masterson said. "And it helped out the bullpen. They've been working hard these last couple of days. It was just really good because it was a solid effort for the whole team. Now, we get a day off tomorrow to relax."
Sale retired the first nine batters he faced and appeared to have his best stuff, but the Tribe found a way to reach base in the fourth. Drew Stubbs dropped a leadoff bunt single along the third-base line, starting a two-run inning highlighted by back-to-back RBI knocks: Ryan Raburn's double and Carlos Santana's single. But it was Stubbs' single that forced Sale to work out of the stretch, which Francona thought threw off the left-hander's rhythm and changed the entire game.
The Indians tacked on another run in the fifth after Michael Brantley singled and Gomes doubled. With runners on second and third, struggling third baseman Lonnie Chisenhall rolled a slow groundout to the right side of the infield, allowing Brantley to trot home. But Sale would end the damage there, striking out Stubbs and getting Mike Aviles to fly out to end the inning. In all, Sale allowed three runs and struck out 10 over eight innings.
"He just missed a couple of spots on Raburn, especially," White Sox catcher Tyler Flowers said of Sale. "Other than that, I just tried to calm him down and he did the rest. He gave us a chance today, and that's all you can ask."
The White Sox mounted a threat in the seventh with runners on first and second and no outs, but Masterson once again induced a double play and then struck out Adam Dunn to end the inning with Alex Rios on third.
"The defense, that's what was working great for me -- those guys were working hard," Masterson said. "They took a real aggressive approach, swinging early. It's all going to come back to those guys out there doing their thing. They made a lot of double plays, and they were pretty double plays."
Just as the Indians' first and last games of the series proved to be polar opposites, Masterson couldn't have closed June any differently than he started it. The right-hander finished May with a 3.07 ERA but tied a season high with seven runs allowed on June 3. But on Sunday, in a game when the Indians truly needed him to last into the late innings, Masterson capped a long series with a gem.
"We need a day off," Francona said. "It'll be good for us. We're tired. I was proud of our guys because I think when you get tired, you make mental mistakes. Our guys stayed on it and really played a nice, clean game."
After a whirlwind of a weekend for the Indians -- arriving in Chicago at 3 a.m. CT on Friday, outlasting the White Sox in both games of the doubleheader, coming from behind to win on Saturday and finally taking care of business to move into first place on Sunday -- Masterson still had a hard time believing the club had completed a sweep.
"Coming in with the scenario, I was nervous we were going to get [only] a couple of games," Masterson said. "It's real big. Coming in here and being able to win four in a row against anybody is tremendous."
Ethan Asofsky is an associate reporter for MLB.com. This story was not subject to the approval of Major League Baseball or its clubs.