Rox ink veteran Nady to Minor League deal
Rox ink veteran Nady to Minor League deal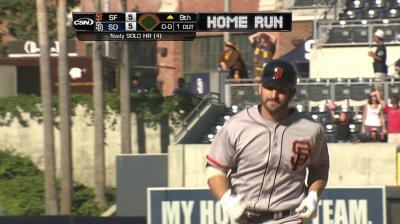 DENVER -- Seeking to add a right-handed bat to their lefty-dominated outfield mix, the Rockies signed Xavier Nady, who was recently released by the Royals, to a Minor League deal and sent him to Triple-A Colorado Springs.
Nady, 34, was hitting .310 with a .382 on-base percentage, 11 home runs and 43 RBIs at Triple-A Omaha before receiving his release and signing Sunday with the Rockies. In 11 Major League seasons, Nady has batted .280 with 101 homers and 406 RBIs with the Padres, Pirates, Yankees, D-backs, Mets, Giants, Cubs and Nationals.
Nady plays first base, and they want to make sure he is healthy enough to play the outfield after a battle with plantar fasciitis that arose this year. If the Rockies call Nady up soon as expected, he will give them a veteran threat off the bench. The bench has been young this season, but contending clubs tend to look for veteran pinch-hit types of players.
"If you look at the complexion of our outfield, there are a lot of left-handed bats, so this adds a right-handed guy to the mix," said Bill Geivett, the Rockies' senior vice president of Major League operations. "He's performing very well at Triple-A for Omaha, so it will be interesting. He's a guy who has experience and we like how he is performing well.
"I think it's a really good move for us right now. We'll see how it goes and see how he plays, but he's done well in the past. His track record this year has been good, so we'll see. We'll see what our guys down in Triple-A think when he starts playing."
Among the Rockies' outfielders, regular center fielder Dexter Fowler switch-hits, and Michael Cuddyer is the only right-handed bat. They're carrying lefty hitters Corey Dickerson and Tyler Colvin, and two of the better outfielders at Colorado Springs -- Charlie Blackmon and Tim Wheeler -- bat left-handed.
Thomas Harding is a reporter for MLB.com. Read his blog, Hardball in the Rockies, and follow him on Twitter @harding_at_mlb. This story was not subject to the approval of Major League Baseball or its clubs.