Defense at root of White Sox disappointment
Defense at root of White Sox disappointment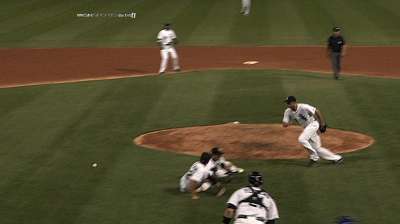 CHICAGO -- When the White Sox left Arizona to begin the regular season at home against Kansas City in early April, general manager Rick Hahn thought his team had the makings of an American League Central title contender. Needless to say, the results through 79 games have not gone as planned.
"We're all more than a little surprised by the way it's played out this season," Hahn said. "Thus far, the performance has been way below what we projected, what the players feel they're capable of doing, which is why you have that frustration inside those walls.
"First of all, there is frustration, disappointment and at times disgust. We try to look forward inside that clubhouse about winning today and winning tomorrow and trying to get this thing turned around pretty quickly. The focus of [manager] Robin [Ventura] and his staff is: 'What do we need to do to win today?'"
This team's success was predicated on pitching and defense, with the same sort of offensive support that allowed the White Sox to finish last season fourth in the AL in runs scored. The offense has come up short, ranking 13th or 14th in five categories, but the White Sox .981 fielding percentage -- 14th in the AL -- has truly been stunning for what was one of the most fundamentally sound teams in baseball last season.
"If I was able to pinpoint one thing that caused the defense to struggle, we wouldn't be seeing it struggle as much as we have," Hahn said. "I know they've been working extraordinarily hard. I know we've seen players in just the first two or three months of the season surpass their previous full-season error total, which is a surprise.
"I do think, unfortunately, you get to a point where guys start pressing and mistakes start snowballing. We are playing this many close games. The feeling is that the margin of error is so small and that increases the pressure on guys. We need a couple of 10-run blowouts to let guys exhale and get going."
Scott Merkin is a reporter for MLB.com. Read his blog, Merk's Works, and follow him on Twitter @scottmerkin. This story was not subject to the approval of Major League Baseball or its clubs.