Belt on bench with Posey manning first
Belt on bench with Posey manning first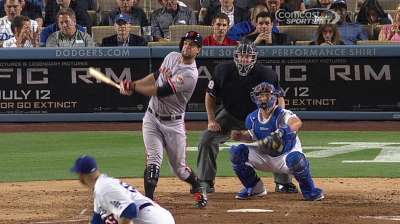 DENVER -- Everyday catcher Buster Posey made his second consecutive start at first base on Sunday and said he's dealing with general leg tightness.
Giants manager Bruce Bochy, himself a former big league catcher, said it's nothing out of the ordinary for a full-time catcher and he could tell Posey needed a few days off behind the plate. With Posey manning first, Brandon Belt was squeezed out of the lineup.
As San Francisco's offense sputters, many have hoped to see Belt move to left field. While Belt did get some experience in the outfield during Spring Training, Bochy said he still isn't comfortable with him manning left field, especially in the spacious outfield of Coors Field.
"Normal with a lot of catching," Bochy said of Posey. "I wish I could put [Belt] in left field, but at this point I just don't think he's had enough work out there, I don't think in this ballpark."
Bochy said if anyone went down with an injury or otherwise needed to be replaced, he would feel comfortable throwing Belt out there. Though the Rockies started left-hander Drew Pomeranz, the left-handed-hitting Belt is hitting an impressive .321 against southpaws and .247 off right-handers
Belt, who usually hits fifth or sixth, is hitting .333 with 12 hits, a homer and five RBIs over his last 11 games. On the year he was at .263 with eight homers and 34 RBIs entering Sunday, and Bochy talked to his young first baseman before Sunday's game to assure him this is strictly a situational move.
"I don't want him to think he's on the bench now, because that's not the case," Bochy said. "It's just Buster could use another day [off] from behind the plate."
Ian McCue is an associate reporter for MLB.com. This story was not subject to the approval of Major League Baseball or its clubs.