Melvin platooning Vogt, Norris at catcher
Melvin platooning Vogt, Norris at catcher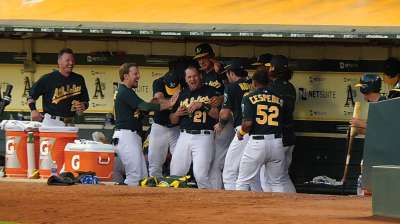 OAKLAND -- As the effects of John Jaso's left palm abrasion continue to linger, A's manager Bob Melvin will keep flipping between the two-man platoon of Stephen Vogt and Derek Norris, with Vogt returning to the lineup Sunday.
Melvin said before the series with the Cardinals started that there was a chance Jaso could be sidelined until Oakland's series against the Cubs, which starts Tuesday, so that Jaso won't have to join the disabled list.
"That's what we're hoping not to do," said Melvin, who has insisted that Jaso is available to pinch-hit if necessary. "That's why we're waiting as long as we have. Hopefully that's not the case. We haven't used him. We would be able to backdate it. But the reason we're going in the direction that we are right now is we're hoping he doesn't have to go on the DL."
Vogt's insertion to the starting lineup comes after receiving Saturday off so Norris could receive some much needed playing time, as he continues to try and work out a recent slump.
Norris responded to the opportunity by recording two of the five hits that Cardinals ace Adam Wainwright allowed in his complete-game win over the A's.
"I tried not to do too much, just tried to take what he gave me because he knows what he's doing on the mound," Norris said.
Engaging with that mindset has been a challenge for Norris, who entered Saturday's contest 4-for-39 over his previous 13 games.
"I made the mistake the last few weeks of trying to do too much when I get in there instead of just take my singles and waiting for a mistake to then do my damage," Norris said. "I've been trying to do my damage on pitches that aren't pitches I normally try and hit. I made a small adjustment yesterday to try and take a pitch I wanted to hit and not do too much with it."
When health isn't a concern, Melvin prefers inserting catchers based on matchups. And when opportunities decrease due to poor play, capitalizing on what can be infrequent at-bats becomes paramount.
"It's very tough, especially when you're not out there every day," Norris said. "You want to try and make a statement and you want to prove to the coaching staff and the front office that when you get in there you make a positive influence on the game, and when you don't, knowing that you have a few days, possibly, to think about what you could've done differently that day, sometimes it can wear on you.
"The only thing you can do is stay positive, and whenever our name is on the lineup card, contribute as much as we can."
Jeff Kirshman is an associate reporter for MLB.com. This story was not subject to the approval of Major League Baseball or its clubs.