Parker to test sore hamstring with bullpen session
Parker to test sore hamstring with bullpen session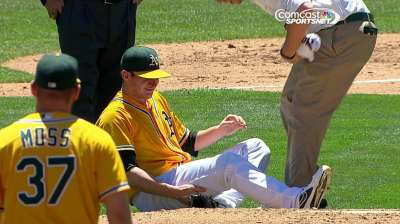 OAKLAND -- Whatever the A's have determined regarding the health of Jarrod Parker, who left his start Saturday with right hamstring tightness, no one appears too inclined to share.
"I got nothing," Parker said at his locker Sunday, stopping reporters from asking before they could even start.
A's manager Bob Melvin mirrored Parker, saying his right-hander had "some lingering soreness when he played catch" but that such side effects aren't necessarily indicative of something worrisome.
"That's to be expected," Melvin said. "Whether it's a cramp or a strain or whatever you want to call it, when you have that and you're doing a physical activity in the fashion he did, it's probably typical that there is some soreness today."
Melvin added that Parker's availability for his next start will be determined based on his bullpen session on Tuesday.
Parker had cruised through his first 3 2/3 innings in what was shaping up to be a pitchers' duel with Cardinals ace Adam Wainwright before the incident, which occurred following his 48th pitch of the game.
He entered Saturday's outing with a 4-0 record, 2.34 ERA and .176 opponents' batting average over his previous six starts after beginning the year 1-5 with a 7.34 ERA and a .345 opponents' batting average.
Jeff Kirshman is an associate reporter for MLB.com. This story was not subject to the approval of Major League Baseball or its clubs.