Wedge expects Ackley, M. Saunders to return soon
Wedge expects Ackley, M. Saunders to return soon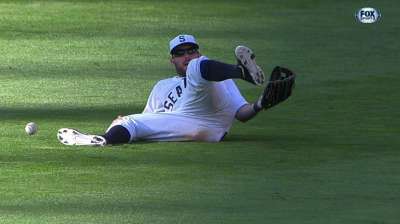 SEATTLE --Dustin Ackley's sprained left thumb wasn't in a cast or any protective covering on Sunday morning, and the newly-converted center fielder said he hopes to be back in a few days when the Mariners play in Texas on Tuesday.
Playing just his second game in the outfield, the former second baseman jammed his thumb when he rolled over on his glove while making a diving attempt at an Alfonso Soriano line drive in the ninth inning of the Mariners' 5-3 loss on Saturday night.
"I think it's more now just getting over the soreness of it," Ackley said Sunday. "Hopefully that's only a couple days. It kind of jammed back when it got caught up under there when my glove went down. Just one of those things where I just have to wait now. I can't do a lot, just ice, and hopefully the off-day will really help things. Maybe after [Monday], I'll be ready to go."
Ackley and fellow center fielder Michael Saunders are both dealing with injuries, as Saunders was spiked on the middle finger of his right hand while diving back to the bag on a pickoff throw by the Cubs on Friday night. With Michael Morse and Franklin Gutierrez already on the disabled list, the Mariners only had three healthy outfielders Sunday with Jason Bay, Endy Chavez and Raul Ibanez.
As of Sunday morning, Saunders hadn't swung a bat or thrown a ball since hurting his finger, but said he was going to test it out before the game and vowed to be ready if needed.
"I'm going to try to do some stuff," Saunders said. "But no matter what, I'll be available."
Manager Eric Wedge said no roster moves were needed, as both Ackley and Saunders are expected back shortly.
"Ack's thumb looks pretty good," he said. "It's still going to be a couple days, but all things considered, it could have been a lot worse. We're trying to figure out what Saunders' availability is right now. He's still getting some treatment and doing some things.
"We just have to stay put with the guys," Wedge said. "When things started happening, we had Brendan Ryan on call. He's played out there before, so just in case."
Ryan, one of the premier defensive shortstops in baseball, played three games in right field for St. Louis during his rookie season in 2008.
Greg Johns is a reporter for MLB.com. Follow him on Twitter @GregJohnsMLB as well as his Mariners Musings blog. This story was not subject to the approval of Major League Baseball or its clubs.