Surgery-bound Beckett plans to return
Surgery-bound Beckett plans to return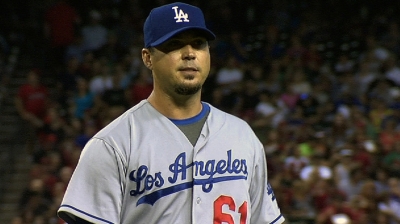 LOS ANGELES -- Josh Beckett has logged over 1,900 innings in the Major Leagues. The huge workload has taken its toll on the Dodgers right-hander, who is headed for surgery.
Beckett won't pitch again for the Dodgers this season, but remains confident his career is not over.
The veteran, diagnosed with thoracic outlet syndrome, will have surgery in two weeks to remove an upper rib to relieve pressure on the nerve in his neck area. He's been dealing with numbness and tingling in his pitching hand for much of the season. An aggressive rehab program didn't work, so Beckett will go under the knife for the first time in his 13-year career.
"This was the last resort," Beckett said on Sunday. "We tried everything. I just couldn't pass any of my clinical exams."
Beckett said he won't have to alter his delivery, and wants to start a throwing program by the end of the calendar year. Beckett's recovery is expected to take between three to five months, according to the Dodgers. He hopes to be ready by the start of Spring Training.
"The goal is to try to get some sort of throwing in this year, so when I start my throwing during the offseason there's not any anxiety about throwing," he said.
Beckett was 0-5 with a 5.19 ERA in eight starts this year when put on the disabled list on May 14.
The Dodgers acquired Beckett last August in the trade with the Red Sox that also brought first baseman Adrian Gonzalez, outfielder Carl Crawford and infielder Nick Punto to Los Angeles.
During seven seasons with the Red Sox, Beckett said he occasionally had numbness and tingling in his pitching hand, but not to this extent.
"It always went away in the past," Beckett said. "It was never anything I dealt with over a big part of time. That was the thing that kind of alarmed us. It just stayed there for six weeks, even longer than that."
After being shut down from throwing in May, Beckett started playing catch again earlier this week. But the numbing sensation persisted and, after consulting with team physician Dr. Neal ElAttrache and nerve specialist Dr. Greg Pearl, Beckett elected to have surgery.
"I just hope it gets better," Beckett said. "I want to be able to feel the ball."
Austin Laymance is an associate reporter for MLB.com. This story was not subject to the approval of Major League Baseball or its clubs.