Bourn on paternity list until Wednesday
Bourn on paternity list until Wednesday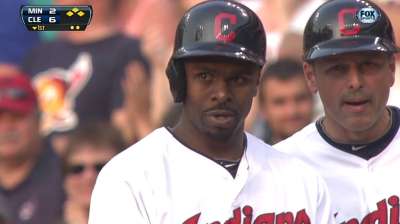 CHICAGO -- The Indians placed outfielder Michael Bourn on the 3-day paternity list and recalled left-hander Nick Hagadone on Sunday. The speedy center fielder dashed out of the visitors' clubhouse shortly after Saturday's 4-3 win over the White Sox to catch a flight to Houston for the birth of his child.
Bourn will be away until Wednesday, when he'll rejoin the club in Kansas City. Indians manager Terry Francona said he hadn't heard from Bourn on Sunday morning, but he was informed in the second inning on Saturday that the outfielder would have to head home after that Saturday game.
The club quickly acted on the news and informed Hagadone he'd be called back up. The 27-year-old reliever last pitched on Thursday, throwing 1 1/3 scoreless innings before being optioned back to Triple-A Columbus for one of the starters in Friday's doubleheader, Trevor Bauer.
"We've got a couple of unusual circumstances," Francona said. "We have guys that can move around the field, and having the extra pitcher might help us out. That was the thinking there. We've pushed it. We've had a lot of innings the last 48 hours, so having the extra pitcher is more valuable."
Bauer lasted just two-thirds of an inning in Game 1 of the twin bill, a 19-10 win in which the Indians' bullpen threw 127 pitches. Francona leaned on his bullpen yet again in the nightcap, asking his relievers to throw 85 pitches. The Tribe called up long man Joe Martinez on Saturday, when the right-hander threw two scoreless innings in a 4-3 win. Francona said the Indians need as much pitching depth as possible right now, but he also feels comfortable managing with more arms down in the bullpen.
"I would have 12," Francona said. "That's the running joke. It was always the running joke with [former Red Sox general manager] Theo [Epstein], and it's already the running joke with [Indians executive vice president and GM] Chris [Antonetti]. He laughs, but I think for our team, because of our versatility, we can get away with it."
Ethan Asofsky is an associate reporter for MLB.com. This story was not subject to the approval of Major League Baseball or its clubs.