Rox can't complete sweep in Pomeranz's shaky debut
Rox can't complete sweep in Pomeranz's shaky debut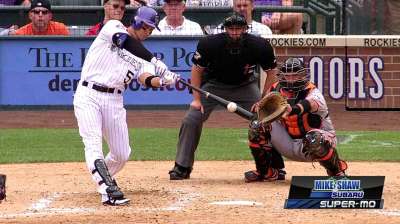 DENVER -- Rockies left-hander Drew Pomeranz returned to the big leagues on Sunday, but his true arrival will have to wait for another day.
Pomeranz was more competitive than electric in his first four innings, then he faltered and was gone ater just 4 1/3. Charged with four runs, including a Buster Posey solo homer and a Hunter Pence two-run shot, Pomeranz was saddled with the 5-2 loss to the Giants at Coors Field in front of 41,845.
"My command wasn't what it has been," said Pomeranz, called up Sunday from Triple-A Colorado Springs, where he was 8-1 with a 4.50 ERA in 15 starts. "I haven't been pitching like that. I'm obviously very disappointed, not making it deep into the game like I would like to."
The Rockies took two of three in the weekend series, which started a string of 16 straight against the National League West before the All-Star break. The loss left the Rockies a game below .500 at 41-42 and two games behind the National League West-leading D-backs. The Dodgers arrive for a three-game series at Coors starting Tuesday night. Veteran Roy Oswalt will make his Rockies Coors Field debut against Dodgers ace Clayton Kershaw -- not to mention rookie slugger Yasiel Puig.
The weekend series was dominated by pitching.
Jhoulys Chacin threw eight scoreless innings the Rockies' 4-1 victory on Friday night. Jorge De La Rosa held the Giants to one run in six innings and the bullpen was unscored upon in Saturday's 2-1 victory. On Sunday, Giants left-hander Madison Bumgarner held the Rockies to four hits -- one of them Carlos Gonzalez's NL-leading 22nd home run of the season -- in seven innings as the Giants snapped their longest losing streak of the season at six.
"Every time we lose a game, it's because they [the opponent] play really good baseball," Gonzalez said. "I can live with that. If we have to face a guy like Bumgarner, the way he pitched today, he deserved the win. You tip your cap."
The Giants don't feel nearly as good about how they're playing, but in the NL West they're just three games back of the D-backs.
"We've got to be pretty happy with the spot we're in with the way we've been playing," Bumgarner said.
Bumgarner walked DJ LeMahieu and yielded a Jordan Pacheco infield single to open the first before fanning Gonzalez and Michael Cuddyer, then working Wilin Rosario into a grounder. With the exception of Gonzalez's homer -- his fourth in 30 career at-bats against Bumgarner -- the Rockies did little against the big Giants lefty.
With Bumgarner safely out of the game, Cuddyer rolled a single through the middle against Sandy Rosario to run the longest hitting streak in the Majors this season to 27 games -- and the longest streak of reaching base since 2007 to 46 games -- with two outs in the eighth. It had the makings of a comeback.
Wilin Rosario drove Cuddyer home to cut the difference to three runs, but Rosario struck out Nolan Arenado to end the threat.
One reason the Rockies obtained Pomeranz from the Indians for former ace Ubaldo Jimenez at the 2011 Trade Deadline was to eventually help in contending situations. Pomeranz made some good pitches, but was not at the level the Rockies needed on Sunday. He struck out five, but yielded seven hits and four walks.
The spot opened for him when the Rockies optioned struggling Juan Nicasio to Colorado Springs.
"He got in some deep counts, walked some guys," Rockies manager Walt Weiss said. "There were some bright spots. His stuff is good. He got some strikeouts, some swings and misses. It shows that he's got plenty of stuff. He's just got to be in better counts, be a little more efficient."
Pomeranz fanned Pablo Sandoval to end the first with two on -- the first of his five strikeouts. Although the Giants drove Pomeranz's pitch count up, he was effective early with the exception of Posey's 12th homer of the season, with one out in the third. Pomeranz struck out two in the fourth, his best inning.
Andres Torres singled to open the fifth and Tony Abreu doubled. Pomeranz forced Posey to ground to second baseman LeMahieu, who threw to first. Abreu had wandered toward third and first baseman Pacheco tried to throw him out at second, but fired the ball into the outfield to allow a run to come home.
Pence took advantage of an 0-1 curve left over the plate for a 4-0 Giants lead in the fifth. After walking the next two hitters, Pomeranz was done, having given up four runs on seven hits and five walks.
"I made a bad pitch to Pence there, a pitch that he can hit, and he made me pay for it," Pomeranz said. "I just need to pitch like I have been pitching, not pitch like I pitched today."
The Giants added a run against Rockies reliever Manuel Corpas with two outs in the seventh when Juan Perez scored from first on Guillermo Quiroz's bloop single, which fell in between center fielder Tyler Colvin, right fielder Cuddyer and LeMahieu in right-center.
Thomas Harding is a reporter for MLB.com. Read his blog, Hardball in the Rockies, and follow him on Twitter @harding_at_mlb. This story was not subject to the approval of Major League Baseball or its clubs.