Giants snap losing streak at six behind Bumgarner
Giants snap losing streak at six behind Bumgarner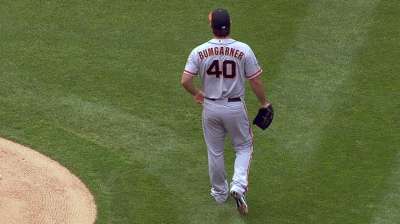 DENVER -- It was nothing more than a routine infield popup, but the Giants celebrated like that final out had brought them something more than a singular win. The three outfielders gathered in center field, their raised arms forming a pyramid as they let out a collective sigh of relief, getting the break they so desperately needed in a 5-2 win over the Rockies at Coors Field on Sunday afternoon.
Through four innings, Sunday afternoon looked like a repeat of the Giants' 2-1 loss on Saturday -- another gem from the starter, Madison Bumgarner, and Buster Posey was seemingly the only man capable of producing runs. But San Francisco's offense finally awoke from a lengthy slumber to snap a six-game slide, the team's longest losing streak in three years.
Bumgarner gave up just one run, four hits and three walks while striking out five in seven innings.
"Today, it went the other way for us, we got a break and it seemed like it relaxed the guys a little bit," Giants manager Bruce Bochy said. "We had some better at-bats there and finally put some runs on the board, which is great to see, because we got another great pitching effort out of Bumgarner. He really did a terrific job."
Bumgarner solidified his place as the club's most reliable arm in 2013, turning in his fourth consecutive start of at least seven innings and no more than two earned runs.
"I feel pretty good right now and [Matt] Cain seems to be feeling good," Bumgarner said. "So, hopefully we can keep it going so everybody gets in a good rhythm and we'll start rolling."
On the opposing mound stood a fellow lefty nine months Bumgarner's senior -- Drew Pomeranz -- but Sunday afternoon Bumgarner looked like the steady-handed veteran.
In his season debut, Pomeranz's inexperience began to surface in the fifth. The trouble started when Tony Abreu knocked a double to center to put runners on second and third after an Andres Torres leadoff single. A soft infield grounder kept Torres at third before Rockies first baseman Jordan Pacheco gave San Francisco the break it needed.
Pacheco tried to get the double play on a throw to second after Abreu was caught off the bag, but launched the ball into left field for a 2-0 Giants lead after Posey homered in the third.
Hunter Pence then stepped to the plate four for his last 19 and belted a two-run homer into the evergreens that frame the back of the Rockies' bullpen. Pence's 13th homer was his first in a week.
"We've been looking for a big hit for a while to give us a little cushion and that's what it did," Bochy said of Pence's homer. "I think it took some pressure off some guys, because they're trying hard, they were fighting to get out of this and we talked about how guys would press when you get into something like this."
It was the Giants' second win in their last 10 games and it prevented Colorado from picking up the three-game sweep. San Francisco's five runs also surpassed its combined run total over its last three losses, and the club improved to 25-12 when scoring first.
Heading into the fifth with a 1-0 lead, Posey was once again responsible for the Giants' only run. The slugger launched a homer 20 rows deep into the left-field bleachers in the third.
But the fifth inning brought the long-awaited end to the Buster Posey Show, as no other Giant had driven in a run over the past 31 innings.
"[Posey's] been really on fire for us, giving us a chance to win some of these games," Pence said. "Our pitching's been great, Buster's been hitting, get a few more guys clicking at the same time and that's how you start winning ballgames."
After Pomeranz followed up the Pence homer with two straight walks, Rockies manager Walt Weiss had seen enough. In his fourth career start against the Giants, he lasted 4 1/3 innings, responsible for all four runs with four walks and five strikeouts.
"My command wasn't what it has been," Pomeranz said. "I haven't been pitching like that [at Triple-A Colorado Springs]. I'm obviously very disappointed, not making it deep into the game like I would like to."
Bumgarner's only misstep came in the sixth against a familiar foe in Carlos Gonzalez. Gonzalez smoked a slider that hovered over the plate just beyond the yellow line on the center-field wall to trim San Francisco's lead to three, 4-1.
Guilermo Quiroz skied a ball into shallow right-center in the seventh, three Colorado defenders huddling around it as it dropped, and consuming enough time to plate Juan Perez from first for the Giants' fifth and final run.
The Rockies started a rally in the eighth when Michael Cuddyer slipped a two-out single through the infield off reliever Sandy Rosario to keep his hitting streak alive at 27 games, the longest in the Majors this year. Wilin Rosario followed with a double off the right-field wall, just past the glove of a leaping Pence, to make it 5-2.
Sergio Romo pitched a scoreless ninth for his 19th save.
With what Bochy phrased a "June swoon" finally over as the calendar turns to July, the Giants had finally surfaced from this deep hole. And they arose a mere three games back in the division.
"We've got to be pretty happy with the spot we're in with the way we've been playing," Bumgarner said.
Ian McCue is an associate reporter for MLB.com. This story was not subject to the approval of Major League Baseball or its clubs.